Basic Science
Stable High Magnetic Field Facilities Put into Trial Operation
On Oct. 28, a stable high magnetic field experimental facility, a project of the National Large Science Facilities Program undertaken by the High Magnetic Field Laboratory, CAS, was partially completed and put into trial operation. This project aims to create extreme experimental conditions of stable magnetic field, to meet the demands for stable magnetic field and other extreme experimental conditions by physics, chemistry, material, life science and other disciplines of China in their exploration of frontier sciences. Currently, two high field magnet facilities and seven experimental and test systems have been completed. These two superconducting magnets find favor in users¡¯ eyes due to their unique advancement: one is the most advanced nuclear magnetic resonance experimental system in China; the other is a magnet with the most stable magnetic field in China, which is equipped with a STM-AFM-MFM combined microscope measurement system, and the only one in the world that was independently developed by researchers of the High Magnetic Field Laboratory.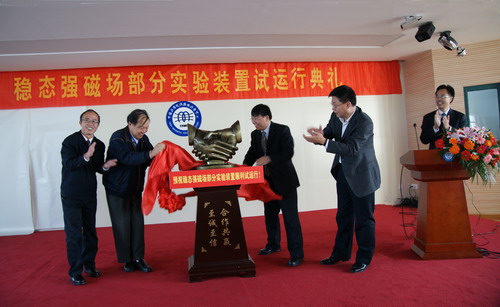 Preparation of a Special Kind of Nano-crystals Patented
The method of ¡±preparation of shape- and size-controlled Mn3O4 nano-crystals¡± invented by researchers of the Polymer Solution Research Group of the State Key Laboratory of Polymer Physics and Chemistry, Changchun Institute of Applied Chemistry, CAS was granted a national patent for invention recently. This invention introduced a method of synthesis of organic ligand coated Mn3O4 nano-crystals, i.e., a method of synthesis of shape- and size-controlled Mn3O4 nano-crystals under mild conditions using two-phase interface. Through adjustment of reaction conditions, it can produce different sizes (3-50nm) of spherical, square and polygonal organic ligand coated Mn3O4 nano-crystals. This preparation method features mild reaction conditions, simple and easy process, short production time and suitable for large-scale production. From the angle of practical application, Mn3O4 nano-crystals of different sizes and shapes will see a wider application due to their different magnetic properties.