International Cooperation
CAS and SCK¡¤CEN Sign MOU
On Oct. 6, witnessed by Chinese Premier Wen Jiabao and Belgian Prime Minister Yves Leterme, Zhan Wenlong, Vice President of CAS, on behalf of CAS, signed a memorandum of understanding on cooperation with Prof. Frank Deconinck, Chairman, and Prof. Eric van Walle, Director-General of the Belgian Nuclear Research Centre (SCK?CEN), to promote the cooperation between the two parties in the area of advanced nuclear energy.
ICSU/IRDR Office Opened
The inauguration ceremony of the International Program Office for the Integrated Research on Disaster Risk (IRDR-IPO) was held on Nov. 18. This program is a major new 10-year international research program of the International Council for Scientific Unions (ICSU) and the first IPO hosted by Asia. Bai Chunli, Executive Vice President of CAS, Cheng Donghong, Secretary of the Secretariat of China Association for Science and Technology, Fu Congbin, member of CAS and member of ICSU Executive Committee, Chen Deliang, Executive Director of ICSU and Heide Hackmann, Secretary-General of the International Social Science Council (ISSC), attended and addressed the ceremony. Bai Chunli and Chen Deliang unveiled the nameplate of IRDR IPO. Jointly initiated by ICSU, ISSC and the United Nations International Strategy for Disaster Reduction (UNISDR), the IRDR program aims to combine the experiences and wisdom of experts in natural science, social economy, public health and engineering from different countries to jointly address the challenges of natural and man-made environmental disasters, improve the capability of countries to respond to disasters, reduce the impact of disasters and improve the decision-making mechanism.
PC Plant Put into Trial Operation in the Laos
On Nov. 19, on the occasion of the 35th anniversary of the founding of the Lao People's Democratic Republic and the 450th anniversary of the founding of Vientiane City, the construction of 50,000-ton potassium chloride plant of the Sino-Laos Mining Development & Investment Co. Ltd. was completed and put into trial operation in Vientiane. The Qinghai Institute of Salt Lakes of CAS is the technology provider of this plant. Asang Laoly, member of the PoliBureau of the Central Committee of the Lao People¡¯s Revolutionary Party, Vice Premier and President of the Committee for Inspection of State Affairs of the Lao People¡¯s Democratic Republic, and Bai Enpei, Secretary of the Yunnan Provincial Communist Party Committee of the People¡¯s Republic of China, cut the ribbon at the ceremony for the trial operation and inspected the plant. Bu Jianguo, Chinese Ambassador to Laos, and leaders from relevant governmental departments of the Laos and the Yunnan Provincial Government, Ma Haizhou, Director General of the Qinghai Institute of Salt Lakes, and Dong Hua, Chairman of Yuntianhua Group attended the ceremony.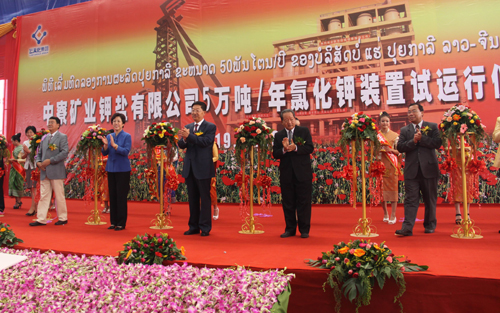 Other Issues

Seventy-second Issue (October 2010)

Seventy-first Issue (August 2010)

Seventieth Issue (June 2010)

Sixty-nineth Issue (April 2010)

Sixty-eighth Issue (February 2010)

Sixty-seventh Issue (December 2010)

Sixty-sixth Issue (October 2009)

Sixty-fifth Issue (August 2009)

Sixty-fourth Issue (June 2009)

Sixty-third Issue (April 2009)

Sixty-second Issue (February 2009)

Sixty-first Issue (December 2008)

Sixtieth Issue (October 2008)

Fifty-nineth Issue (August 2008)

Fifty-eighth Issue (June 2008)

Fifty-seventh Issue (April 2008)

Fifty-sixth Issue (February 2008)

Fifty-fifth Issue (December 2007)

Fifty-fourth Issue (October 2007)

Fifty-third Issue (August 2007)

Fifty-second Issue (June 2007)

Fifty-first Issue (April 2007)

Fiftith Issue (Feb. 2007)

Fourty-nineth Issue (December, 2006)

Fourty-eighth Issue (Ocboter, 2006)

Fourty-seventh Issue (August, 2006)

Fourty-sixth Issue (June, 2006)

Fourty-fifth Issue (April, 2006)

Fourty-fourth Issue (February, 2006)