Brief News
China & UK PMs Witness Agreements Signing
On Feb. 2, in the presence of Chinese Premier Wen Jiabao and British Prime Minister Gordon Brown, Jiang Mianheng, Vice President of CAS, signed the Framework Agreement on Establishing Long-Term Strategic Partnership with John Morgan, Vice President for Research and Development of BP and the Memorandum of Understanding on Cooperation in Titanium and Aluminium Technology with John Rose, CEO of Rolls Royce respectively at No. 10 Downing Street, the official residence of the British Prime Minister.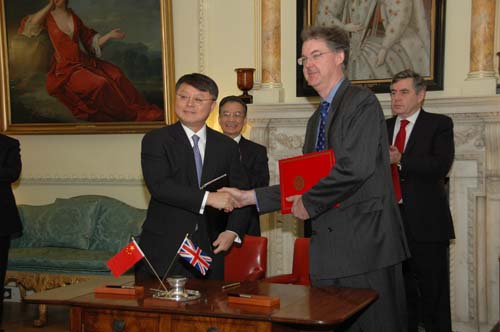 Lu Yongxiang Meets Esko Aho
On Feb. 25, Lu Longxiang, President of CAS, met with Esko Aho, Executive Vice President of Nokia and former Prime Minister of Finland and Veli Sundback, Executive Vice President of Nokia and Chairman of Nokia China Board of Directors.
Bai Chunli Meets John Beddington
On Mar. 30 afternoon, Bai Chunli, Executive Vice President of CAS, met with visiting John Beddington, Chief Scientific Adviser to British Government and his entourage. Dr. John Beddington expressed appreciation for Bai Chunli¡¯s hospitality and convinced that UK is willing to further strengthen the scientific and technological cooperation with CAS in agriculture, food security, climate change and other fields.
Bai Chunli Elected Indian NAS Honorary Fellow
Recently£¬the National Academy of Sciences, India (NASI) unveiled the list of its newly elected Honorary Fellows. Bai Chunli, Executive Vice President of CAS, was elected foreign honorary fellow of NASI. D. Balasubramanian, President of NASI sent a congratulation letter to Bai Chunli. NASI selects annually three foreign honorary fellows from scientists across the world who have made outstanding achievements in science and technology field. Bai boasts the first Chinese scientist who has been so far awarded such honor.
Shi Erwei Visits Japan
From Feb. 16 to 21, on invitation of Touichi Sakata, Vice Minister of the Ministry of Education and Culture, Sports, Science and Technology of Japan (MECSCT) and Takashino Shizuo, Vice President of Sony, Shi Erwei, Vice President of CAS, paid a visit to MECSCT, ¡°Kansai Science City¡±, Sony and other companies with his entourage. The two parties agreed to hold the Sixth Sino-Japan Workshop on Science and Technology Policies in Okinawa, Japan in April this year.
Ma Keping Elected Member of IUCN Council.
At the 72 Session of the World Conservation Union (IUCN) Council held on Feb.4, 2009, Dr. Ma Keping£¬Director General of the Institute of Botany, CAS, was elected member of the IUCN Council with a four years term to 2012.
Li Jiayang Present at Asia-Pacific BioEco 2009
From Feb. 12 to 13, Asia-Pacific BioEco 2009 was held in Yabuli, Helongjiang Province. Li jiayang, Vice President of CAS attended and addressed the meeting. At the meeting, more than 700 representatives from some 10 countries and regions e.g. China, Russia and Canada, etc. discussed about Asia-Pacific bio-economy and the promotion of the development of global bio-economy as a whole. The meeting aims to expand exchanges and cooperation with APEC countries in biological technology and investment.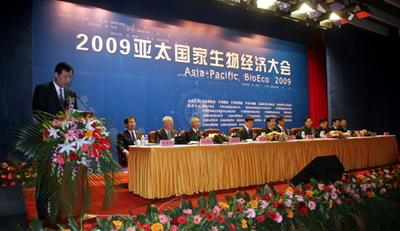 Ding Zhongli Present at GEO International Workshop
From Feb. 11 to 13, the GEO International Workshop on Building Global Agricultural Monitoring Integrated System was held. At the opening session on Feb. 13, Ding Zhongli, Vice president of CAS, Xu Guanhua, Director of Subcommittee of Education, Science, Culture, Health and Sports, CPCCC and former Minister of the Ministry of Science and Technology, Zheng Guoguang, Co-chair of GEO and Director General of China Meteorological Administration (CMA), etc. and John Townshend, Co-chair of IGOL and Dean of the Geology Department of the University of Maryland were present. The Workshop was themed building global agricultural monitoring integrated system ¨C formulating policies for sharing of earth observation data and information, which aims to build an information exchange platform for building global agricultural monitoring integrated system, ?to promote the application of agricultural monitoring system and formulate policies for sharing of earth observation data and information. Some 80 government officials, experts and scholars in this field from over 20 countries and regions, e.g. China, America, Canada, Australia, France, South Africa, Italy, Kenya, Uganda, etc. attended the meeting.