Applied Technology
Clean Technology for Extractions from Bastnaesite Lixiviam
The research team led by Li Deqian from the Changchun Institute of Applied Chemistry, CAS, successfully developed a technology to "extract and separate cerium and thorium from bastnaesite lixivium" after years of R&D.
In Panxi rare earth mineral deposit, Sichuan Province, in addition to large amounts of valuable rare earth resources, there are 0.2-0.3% thorium, a radioactive element and 8-10% fluoride. The patented technology solved the problem of environmental pollution caused by radioactive residues and exhaust emissions from the production source for the first time. No chlorine is emitted during the process; fluoride and thorium emitted as the pollution source in the original process have been recycled effectively with a recycle rate of over 90 %, the recycle rate of rare earth from 80% up to 90%, cerium purity from 98% up to 99.999%, thus an effective recycle of fluoride, thorium and rare earth and clean metallurgical rare earth resources of high value have been achieved. Applying this integrated technology, the Fangxing Rare Earth Co., Ltd. in Mianning County, Sichuan Province built a high-tech industrialization demonstration project which deals with 5200 tons rare earth concentrates annually. The technology serves as an example for the separation of bastnaesite and can be promoted for wider application.
New Infrared Horizon Sensor Completed On-orbit Test.
The new static horizon sensor developed by Shanghai Institute of Technical Physics is one of the main testing items of new technologies boarded on the No. 3 Test Satellite. As a new generation horizon sensor, it is based on FPA infrared detector technology. It weights 2kg and the power consumption is less than 5W. Containing no movable parts, it features high precision, small size, light weight, low power consumption and long life. Recently, the new static horizon sensor successfully transmitted world's first IR image of the earth with a wave-band of 13.5um-16.25um.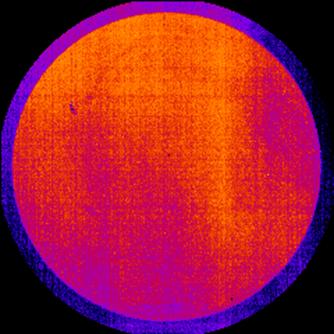 New Material for Solar Energy
Recently, the research team led by Zhou Feng from the National Key Laboratory of Solid Lubrication, Lanzhou Institute of Chemical Physics, CAS, prepared a highly ordered porous-type titanium dioxide nanotube array material and realized a controllable growth of titanium dioxide nanotube array with diameter between 20-250nm and length between 150nm-500um. These materials have shown excellent performance in photocatalysis, dye-sensitized solar cells, super-hydrophobic and other application areas. The relevant paper has been published in JPhyChem-C, AdvMater, Adv FuncMater. and ChemMater and other journals. The material is expected to be applied widely in actual production.
Other Issues

Sixty-second Issue (February 2009)

Sixty-first Issue (December 2008)

Sixtieth Issue (October 2008)

Fifty-nineth Issue (August 2008)

Fifty-eighth Issue (June 2008)

Fifty-seventh Issue (April 2008)

Fifty-sixth Issue (February 2008)

Fifty-fifth Issue (December 2007)

Fifty-fourth Issue (October 2007)

Fifty-third Issue (August 2007)

Fifty-second Issue (June 2007)

Fifty-first Issue (April 2007)

Fiftith Issue (Feb. 2007)

Fourty-nineth Issue (December, 2006)

Fourty-eighth Issue (Ocboter, 2006)

Fourty-seventh Issue (August, 2006)

Fourty-sixth Issue (June, 2006)

Fourty-fifth Issue (April, 2006)

Fourty-fourth Issue (February, 2006)

Fourty-third Issue (December, 2005)

Fourty-second Issue (October, 2005)

Fourty-first Issue (August, 2005)

Fourtith Issue (June, 2005)

Thirty-ninth Issue (April, 2005)

Thirty-eighth Issue (February, 2005)

Thirty-seventh Issue (December, 2004)

Thirty-sixth Issue (October, 2004)

Thirty-fifth Issue (August, 2004)

Thirty-fourth Issue (June, 2004)

Thirty-third Issue (April, 2004)

Thirty-second Issue (February, 2004)

Thirty-first Issue (December, 2003)

Thirtieth Issue (October, 2003)

Twenty-nineth Issue (August, 2003)

Twenty-eighth Issue (June, 2003)

Twenty-seventh Issue (Spring, 2003)