Spotlights of Exchanges
Nepalese Prime Minister Visits Institute of Botany
On Aug. 25 afternoon, under the company of staff members of the Ministry of Foreign Affairs, Pushpa Kamal Dahal, Nepalese new Prime Minister and his wife paid a visit to the Institute of Botany with some of the Cabinet members and Nepalese ambassador to China. The Prime Minister also visited the Lagerstroemia Indica Garden of the Institute and planted amaidenhair tree that symbolizes the Sino-Nepal friendship.
A-STAR Chairman Visits Institute of Genomics
On Sep. 25, Lim Chuan Poh, Chairman of the Agency for Science, Technology and Research (A-STAR), Singapore paid a visit to the Beijing Institute of Genomics, CAS with his entourage.
C. N. Yang Delivered First Lecture for Science Human Forum
On Sep. 28, C. N. Yang, Nobel Prize Laureate in Physics, delivered the first lecture for Science Human Forum in the National Science Library, CAS, which attracted more than 600 scientists and young experts.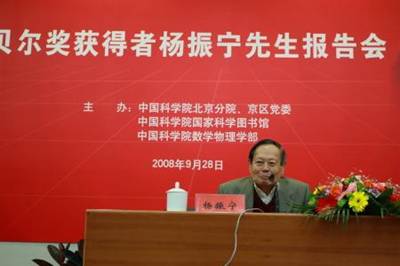 New Center to Promote Sino-Denmark Education and Science
Recently, Ole Fejerskov, Secretary and Advisor to the Danish Minister of Science, Technology and Innovation on co-operation with China and Pro Vice-Chancellor for International Affairs of the University of Aarhus paid a visit to the Graduate University of CAS with his 7-member scientific and educational delegation. Both sides discussed the launching of substantial cooperation and the co-founding of Sino-Denmark Education and Scientific Research Center. As planned, the Center will launch scientific and educational cooperation on cutting edge sciences and in areas that both sides enjoy advantages and share common interests, and provide postgraduate and doctorate programs to educate Chinese students, and overseas students from Denmark and other countries. The Center, with floor area of 8000-10000 square meters, will be co-managed by the Graduate University of CAS and the Danish University Alliance. It aims to become a window that showcases Danish art, science, innovation and architecture as well as a model for Sino-Denmark scientific and educational cooperation.