Geoscience
International Collaboration Promotes Eco-study in Gongga Mount
The national key field eco-station - Gongga Alpine Ecosystem Observation and Experimental Station proactively launched international cooperation with Swiss Federal Institute for Forest, Snow and Landscape Research and significant progress has been achieved. Headed by Li Maihe, expert of Plant Physiological Ecology, both sides formed a cooperative team composed mainly of young backbone members and doctors. The team achieved effective results with support from the Gongga Alpine Ecosystem Observation and Experiment Station. Their pioneering results were published respectively in some international academic journals such as Plant, Cell and Environment, Tree Physiology, etc.
The team, headed by Li Maihe, proposed the idea of ¡°formation of alpine timberline due to lack of carbohydrate in winter¡± after 3-year study. Based on this and through comparison of relation between carbon source and sink for trees at alpine timberline and those at low altitude, they discovered that lack of carbohydrate in winter might be only one aspect of the issue, while a balanced relation between carbon source and sink will finally decide the location and distribution of alpine timberline. These innovative research results will proactively promote the study of mechanism of alpine timberline.
Small-satellite to Forecast Natural Disasters and Environment
At 11:00 p.m. Sep. 6, a rocket carrying two environment monitoring satellites (A and B) was launched from the Taiyuan Satellite Launch Center in Shanxi Province. It is China¡¯s first constellation for environmental monitoring and disaster relief, consisting of two optical satellites (A and B) and a radar satellite (C). The constellation aims to monitor disasters, ecological damage, pollution 24 hours a day, in any weather and over larger swathes and provide scientific basis for urgent aid, disaster relief and reconstruction.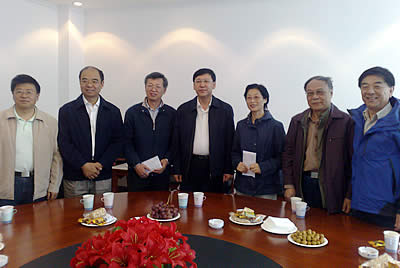 Survey on Headwater of Lancangjiang Completed
After 12-day hard efforts, a 40-member Chinese scientific team successfully completed a comprehensive survey that aims to identify the geographic location of the headwater of Lancangjiang (Mekong River). During the survey, some geographic marks were also set up at the locations of headwaters of some of the key branch streams at its source area so as to accurately locate the real headwater of Lancangjiang after the survey is completed and set up the formal Chinese national geographic mark. Doc. Liu Shaochuang, research fellow of the Institute of Remote Sensing Application, CAS, said that during the 12-day survey, the scientific team conducted comprehensive survey on the two most disputed branch streams of headwater of Lancangjiang ¨C Zha¡¯aqu and Zhanaqu as well as five source rivers of the two branch streams to collect relevant detailed information and data. ?As planned, the three river source water scientific survey team will conduct survey on key branch streams of the Yangtze River; then they will enter the headwater area of the Yellow River to conduct survey on some of its source rivers.
Other Issues

Sixtieth Issue (October 2008)

Fifty-nineth Issue (August 2008)

Fifty-eighth Issue (June 2008)

Fifty-seventh Issue (April 2008)

Fifty-sixth Issue (February 2008)

Fifty-fifth Issue (December 2007)

Fifty-fourth Issue (October 2007)

Fifty-third Issue (August 2007)

Fifty-second Issue (June 2007)

Fifty-first Issue (April 2007)

Fiftith Issue (Feb. 2007)

Fourty-nineth Issue (December, 2006)

Fourty-eighth Issue (Ocboter, 2006)

Fourty-seventh Issue (August, 2006)

Fourty-sixth Issue (June, 2006)

Fourty-fifth Issue (April, 2006)

Fourty-fourth Issue (February, 2006)

Fourty-third Issue (December, 2005)

Fourty-second Issue (October, 2005)

Fourty-first Issue (August, 2005)

Fourtith Issue (June, 2005)

Thirty-ninth Issue (April, 2005)

Thirty-eighth Issue (February, 2005)

Thirty-seventh Issue (December, 2004)

Thirty-sixth Issue (October, 2004)

Thirty-fifth Issue (August, 2004)

Thirty-fourth Issue (June, 2004)

Thirty-third Issue (April, 2004)

Thirty-second Issue (February, 2004)

Thirty-first Issue (December, 2003)

Thirtieth Issue (October, 2003)

Twenty-nineth Issue (August, 2003)

Twenty-eighth Issue (June, 2003)

Twenty-seventh Issue (Spring, 2003)