Applied Technology
Shenzhou-7: Space Walk Witnessed
In 2006, Xi'an Institute of Optics and Precision Mechanics, CAS started to develop cameras to be installed outside the spaceship Shenzhou-7 for Shanghai Academy of Spaceflight Technology. As optic imaging equipment to be installed outside the spaceship, the cameras must be able to work in a complicated and severe environment when the spaceship flies in the space. The scientific researchers of Institute achieved many technical innovations in their design and improved the cameras¡¯ abilities of anti-space radiation, anti-space charged particles, and anti-atomic oxygen effects and solved relevant technical difficulties such as large field view, low distortion and High-low Temperature. These efforts and achievements ensured that the cameras could meet the technical requirements of high definition imaging in vacuum environment.
Synchrotron Light Source with Beam Energy of 3.5 GeV Achieved for SSRF Storage Ring
At 16:54, Aug. 8, the second stage commissioning of the storage ring in Shanghai Synchrotron Radiation Facility (SSRF), Shanghai Institute of Applied Physics, CAS made significant progress. Synchrotron light source with beam energy of 3.5 GeV was achieved for the first time (current: 50mA), a new record better than the previous energy of 3.0GeV. Thus far, the accelerator and the systems at front end of the electron beams work normally. As planned, the tasks for second stage commissioning of the storage ring will be fulfilled and major design indicators will be satisfied in about one month, which will lay solid ground for the final commissioning after the third stage insertion devices.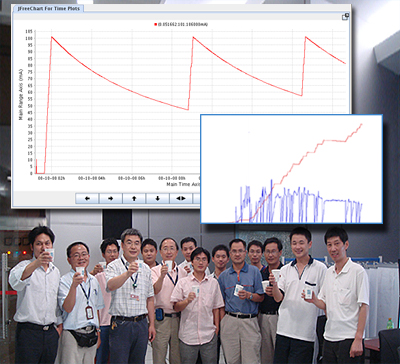 Underwater Robot: Virgin Operation in Arctic
The robot, named North Pole ARV, is the first underwater vehicle of its kind with an autonomous-and-remote hybrid operation mode developed independently by the Shenyang Institute of Automation (SIA), CAS. ARV has successfully fulfilled the survey under ice in the Arctic Ocean at 84 degree north latitude. This boasts the first time that Chinese underwater robot made survey under the ice at such high degree of latitude.
Other Issues

Sixtieth Issue (October 2008)

Fifty-nineth Issue (August 2008)

Fifty-eighth Issue (June 2008)

Fifty-seventh Issue (April 2008)

Fifty-sixth Issue (February 2008)

Fifty-fifth Issue (December 2007)

Fifty-fourth Issue (October 2007)

Fifty-third Issue (August 2007)

Fifty-second Issue (June 2007)

Fifty-first Issue (April 2007)

Fiftith Issue (Feb. 2007)

Fourty-nineth Issue (December, 2006)

Fourty-eighth Issue (Ocboter, 2006)

Fourty-seventh Issue (August, 2006)

Fourty-sixth Issue (June, 2006)

Fourty-fifth Issue (April, 2006)

Fourty-fourth Issue (February, 2006)

Fourty-third Issue (December, 2005)

Fourty-second Issue (October, 2005)

Fourty-first Issue (August, 2005)

Fourtith Issue (June, 2005)

Thirty-ninth Issue (April, 2005)

Thirty-eighth Issue (February, 2005)

Thirty-seventh Issue (December, 2004)

Thirty-sixth Issue (October, 2004)

Thirty-fifth Issue (August, 2004)

Thirty-fourth Issue (June, 2004)

Thirty-third Issue (April, 2004)

Thirty-second Issue (February, 2004)

Thirty-first Issue (December, 2003)

Thirtieth Issue (October, 2003)

Twenty-nineth Issue (August, 2003)

Twenty-eighth Issue (June, 2003)

Twenty-seventh Issue (Spring, 2003)