Breakthrough in New Drug Research for Diabetes Treatment
Researchers from the Shanghai Institute of Materia Medica (SIMM), CAS have made a break-through in a study over the new drug holding the key to a more convenient treatment of the most common type of human diabetes, reported the online version of the Proceedings of the National Academy of Sciences (PNAS) in its first issue of 2007. Wang Mingwei, the lead author of the present study and Research Fellow of SIMM as well as director of China's National Center for Drug Screening under CAS SIMM, screened with his colleagues more than 48,000 chemical compounds and identified two promising candidates with the ability to mimic the actions of glucagon-like peptide-1 (GLP-1) in cultured cells and in live animals. The researchers found that one small-molecule compound, named Boc5, decreased food intake when administered to mice by injection and orally. The results suggest that the discovery may represent a new class of small molecules with potential for treating diabetes, obesity, and relevant metabolic disorders without the need for injection. This 4-year research has already reaped a rich harvest with 7 national patent applications.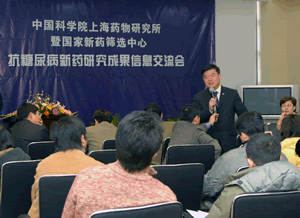 Function of Duffy Antigen Receptor for Chemokine (DARC) to Control Cancer Discovered for First Time

Chinese scientists found that Duffy antigen receptor for chemokine (DARC) may play a negative role in the process of neoangiogenesis and probably has an association with the lymph node status for the first time. This result is a collaborative success between researchers of the Fudan University and the Shanghai Institute of Materia Medica (SIMM) CAS, providing key clue to the research into chemotactic factor and R&D of anticancer drugs. In the experiments, researchers demonstrated that DARC over-expression induced inhibition of tumorigenesis and/or metastasis through interfering with the tumor angiogenesis in vivo. The results were also further proven in human breast cancer samples by researchers who demonstrated that low expression of the DARC protein is significantly associated with estrogen receptor (ER) status, MVD, lymph node metastasis, distant metastasis and poor survival.

The result was reported in the latest issue of the Oncogene journal under Nature Publishing Group.
Other Issues

Sixtieth Issue (October 2008)

Fifty-nineth Issue (August 2008)

Fifty-eighth Issue (June 2008)

Fifty-seventh Issue (April 2008)

Fifty-sixth Issue (February 2008)

Fifty-fifth Issue (December 2007)

Fifty-fourth Issue (October 2007)

Fifty-third Issue (August 2007)

Fifty-second Issue (June 2007)

Fifty-first Issue (April 2007)

Fiftith Issue (Feb. 2007)

Fourty-nineth Issue (December, 2006)

Fourty-eighth Issue (Ocboter, 2006)

Fourty-seventh Issue (August, 2006)

Fourty-sixth Issue (June, 2006)

Fourty-fifth Issue (April, 2006)

Fourty-fourth Issue (February, 2006)

Fourty-third Issue (December, 2005)

Fourty-second Issue (October, 2005)

Fourty-first Issue (August, 2005)

Fourtith Issue (June, 2005)

Thirty-ninth Issue (April, 2005)

Thirty-eighth Issue (February, 2005)

Thirty-seventh Issue (December, 2004)

Thirty-sixth Issue (October, 2004)

Thirty-fifth Issue (August, 2004)

Thirty-fourth Issue (June, 2004)

Thirty-third Issue (April, 2004)

Thirty-second Issue (February, 2004)

Thirty-first Issue (December, 2003)

Thirtieth Issue (October, 2003)

Twenty-nineth Issue (August, 2003)

Twenty-eighth Issue (June, 2003)

Twenty-seventh Issue (Spring, 2003)