Fossils Revealed History of Flying Mammals to be 70 Million Years Earlier
Along with Meng Jin from the Division of Paleontology at the American Museum of Natural History, Hu Yaoming, Wang Yuanqing, Wang Xiaolin and Li Chuankui from the Institute of Vertebrate Paleontology and Paleoanthropology, CAS published as the cover story in the Dec. 14, 2006 issue of Nature , their findings of an incredibly well-preserved fossil found in the Mesozoic beds of Inner Mongolia's Ningcheng County. The fossil remains of a small, squirrel-sized mammal that lived at least 125 million years ago during the Mesozoic era (248 million to 65 million years ago), the time when dinosaurs were the dominant creatures on earth. According to the article, the mammal had experimented with gliding at about the same time as, if not earlier, when pterodactyls and birds were taking to the sky. The discovery extends the earliest record of gliding flight for mammals to at least 70 million years earlier. The previous one was by a fossil bat dating back about 51 million years and uncovered in North America.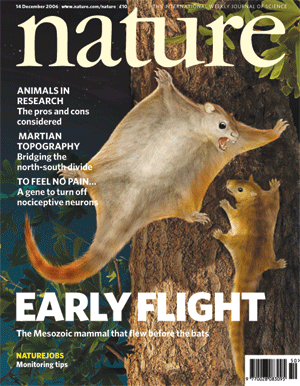 Genetic Research on Giant Pandas Highlights Annual Science Top Stories in Discovery
The findings of an exhaustive non-invasive genetic survey of giant pandas by a Sino-UK team under the leadership of Prof. Wei Fuwen from the Institute of Zoology, CAS have been listed by the journal Discovery as one of the world's top 12 important and interesting stories in biology in 2006. The article entitled ˇ°DNA Analysis of Panda Feces Suggests Twice as Many Pandas as Previously Estimatedˇ± emphasizes that the method to identify individual bears through DNA analysis of panda feces is more suitable for researchers to truly estimate the population size of wild giant pandas without interfering their life. Besides, the article also underlines that only rational protection measures can help improve the chance of long-term viability for wild giant pandas for it is far from optimistic status though there is promising recovery of their numbers.
Tumor Suppressor Gene in Leukemia Stem Cells Found
Scientists screened twenty-eight candidates of tumor suppressor genes located in the human 5q31.1 critical deleted region and identified the gene encoding alpha-catenin (CTNNA1) protein as a potential tumor suppressor that might be the one that researchers have been continuously working for over 30 years.
The significant finding is a result from the 3-year collaborative work by a research team led by Research Fellow Liu Tingxi (who was selected as member of CAS's ˇ°the Hundred Talents Programˇ±) from the Institute of Health Sciences, Shanghai Institutes for Biological Sciences, CAS and Shanghai Jiao Tong University School of Medicine, and several laboratories including the Dana-Farber Cancer Institute, Harvard Medical School. Their work was reported in the Jan. 1 issue of Nature Medicine (IF: 29).
Other Issues

Sixtieth Issue (October 2008)

Fifty-nineth Issue (August 2008)

Fifty-eighth Issue (June 2008)

Fifty-seventh Issue (April 2008)

Fifty-sixth Issue (February 2008)

Fifty-fifth Issue (December 2007)

Fifty-fourth Issue (October 2007)

Fifty-third Issue (August 2007)

Fifty-second Issue (June 2007)

Fifty-first Issue (April 2007)

Fiftith Issue (Feb. 2007)

Fourty-nineth Issue (December, 2006)

Fourty-eighth Issue (Ocboter, 2006)

Fourty-seventh Issue (August, 2006)

Fourty-sixth Issue (June, 2006)

Fourty-fifth Issue (April, 2006)

Fourty-fourth Issue (February, 2006)

Fourty-third Issue (December, 2005)

Fourty-second Issue (October, 2005)

Fourty-first Issue (August, 2005)

Fourtith Issue (June, 2005)

Thirty-ninth Issue (April, 2005)

Thirty-eighth Issue (February, 2005)

Thirty-seventh Issue (December, 2004)

Thirty-sixth Issue (October, 2004)

Thirty-fifth Issue (August, 2004)

Thirty-fourth Issue (June, 2004)

Thirty-third Issue (April, 2004)

Thirty-second Issue (February, 2004)

Thirty-first Issue (December, 2003)

Thirtieth Issue (October, 2003)

Twenty-nineth Issue (August, 2003)

Twenty-eighth Issue (June, 2003)

Twenty-seventh Issue (Spring, 2003)