Lu Yongxiang Meets NRC President
At noon of Jan. 17, Lu Yongxiang, President of CAS, met with and held banquet in honor of Dr. Pierre Coulombe, President of Canadian National Research Council (NRC) and his entourage in Beijing. The two sides briefed respectively about the recent progress of R&D on fuel cells and clean energy. They agreed that efforts should be strengthened to promote exchanges and cooperation between the two countries in these fields and other areas of common interests.
Chen Zhu Re-elected Co-chair of InterAcademy Panel
On Dec. 5, 2006, Chen Zhu, Vice President of CAS, was re-elected co-chair of the InterAcademy Panel (IAP) after having served a three-year term from 2003 to 2006 at its Triennial Conference and General Assembly held at the Bibliotheca Alexandrina in Egypt. Prof. Chen will take charge of the organization together with Prof. Howard Alper, former President of the Academies of Arts, Humanities and Sciences of Canada.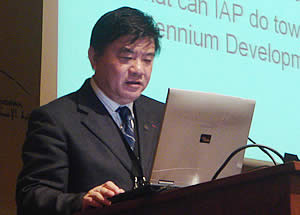 LI Daqian Elected Foreign Associate Member
On the afternoon of Dec. 12, 2006, Prof. Li Daqian, member of CAS and mathematician of the Fudan University, attended the grandiose induction ceremony held in the Dome Hall of the French Academy of Sciences in Paris, together with other 16 newly elected Foreign Associate Member of the French Academy of Sciences. Prof. Li expressed at the ceremony that election into the French Academy of Sciences is not only hisown personal honor, but it is also a recognition by his French peers of the achievement that he made in applied mathematics, especially in the partial differential equations and their application. He said that his election would help improve the research level of China and reinforce international cooperation and exchanges.
Bronze Statue of Lu Jiaxi Unveiled
On Dec. 28, the completion ceremony of the bronze statue for Lu Jiaxi as a permanent commemoration for the former President of CAS (1981.7-1987.1), was grandly held in the Fujian Institute of Research on the Structure of Mater, CAS. The full-length bronze statue is the first one that has ever been built in China. Li Jinghai, Vice President of CAS and relevant officials attended the completion ceremony and unveiled the statue. Hong Maochun, Director General of the Fujian Institute of Research on the Structure of Mater and Member of CAS briefed Lu Jiaxií»s biography and the specifications and the meaning symbolized by the bronze statue.