Activities of CAS Leaders
Bai Chunli Visits Sri Lanka, Indonesia and Nepal
March 31 – April 9, Bai Chunli, President of CAS, paid a visit to Sri Lanka, Indonesia and Nepal at the invitation of the Ministry of Higher Education of Sri Lanka, Indonesian Institute of Sciences and the International Center for Integrated Mountain Development (ICIMOD). During his trip to Sri Lanka, Bai visited the Sri Lanka Ministry of Higher Education, Ministry of Technology and Research, University Grants Commission and University of Ruhuna. Bai also met with Sri Lanka President Mahinda Rajapaksa. During his trip to Indonesia, Bai visited the Indonesian Academy of Sciences and its affiliated Bogor Botanical Gardens. With his Indonesian counterpart , Bai signed an MOU of Scientific Cooperation between the two academies. Also signed was a cooperation agreement between the Institute of Botany of CAS and the Biological Research Center of Indonesian Institute of Sciences . During his trip to Nepal, Bai met with Nepali Prime Minister Sushil Koirala and visited Tribhuvan University, ICIMOD and Nepal Academy of Science and Technology.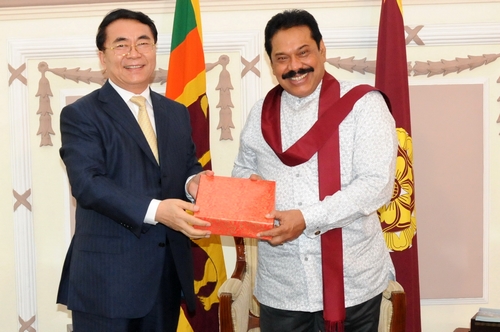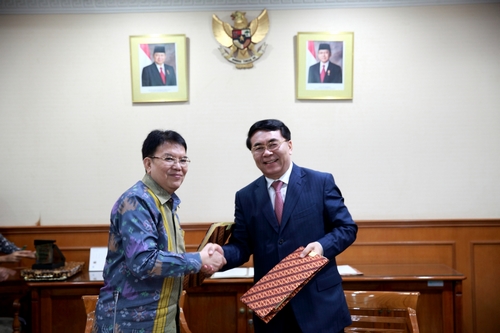 Bai Chunli Meets Keith Hipel
Bai Chunli, President of CAS, held a friendly and candid talk with Prof. Keith Hipel,President of the Academy of Science, Royal Society of Canada on April 23. Bai expressed his perspective on an in-depth cooperation between the two sides and hoped that both could strengthen communication and coordination in the scenario of international S&T organizations. Prof. Hipel echoed by emphasizing an overall cooperation between S&T communities from both countries through promoting exchanges between the two Academies. The meeting also covered such issues as climate change and nanotechnology as well as S&T journals.
Bai Chunli Meets S&T Adviser to Iranian President
Key Areas for Future Cooperation Discussed
Bai Chunli, President of CAS, welcomed Hamid Reza Amirinia, Adviser to the President of Iran, chief of the Centre for Technological and Innovative Cooperation under the President of Iran on April 28. Bai recalled the cooperative progress jointly accomplished with Iranian S&T community in recent years and hoped to expand partnership in the fields of nanotechnology, agriculture, resources and environment, biomedicine, information technology and geology. He also stressed his commitment to the advancement of science and technology in developing countries in his capacity as President of the World Academy of Sciences (TWAS). Amirinia responded with a proposal to establish a cooperative committee as a way to crystallize bilateral cooperation of mutual interest.
Bai Chunli Meets with bioMérieux CEO
Bai Chunli, President of CAS, met with Mr. Alexandre Mérieux, CEO of bioMérieux on April 30. Both sides exchanged ideas on joint-construction of Wuhan high level biosafety laboratory. Bai pointed out that the Academy attached great importance to the progress in the construction of biosafety laboratory, which would provide the best platform for new infectious disease prevention and control and virological study. Bai wished bioMérieux taking efforts to complete this project during the 50th anniversary of establishment of diplomatic ties between China and France. He also thanked Mr. Mérieux for his long time contribution on promoting the development of Sino-French cooperation. Mr. Mérieux said the joint laboratory would be the largest and the most advanced biosafety lab after completion, and become an important carrier to deepen cooperation between the two countries. As the chairman of the celebration committee for 50th anniversary of diplomatic ties between China and France, he would like to further promote bilateral S&T exchange and cooperation.
Zhang Yaping Visits Central Asia
Zhang Yaping, Vice President of CAS, paid a visit to Kazakhstan, Kyrgyz Republic and Uzbekistan April 21-28. During his visit, he attended the 4th Forum of National Academies of Sciences under the Shanghai Cooperation Organization in Almaty, Kazakhstan and inked on the Joint Statement of the 4th Forum on behalf of the Chinese Academy of Sciences. During his visit to Kyrgyz Republic, Zhang met with Erkebayev, President of the National Academy of Sciences of the Kyrgyz Republic and signed an agreement with Borubaev, Vice President of Kyrgyz National Academy of Sciences. After that, he held a talk with Salikhov, President of Uzbekistan Academy of Sciences.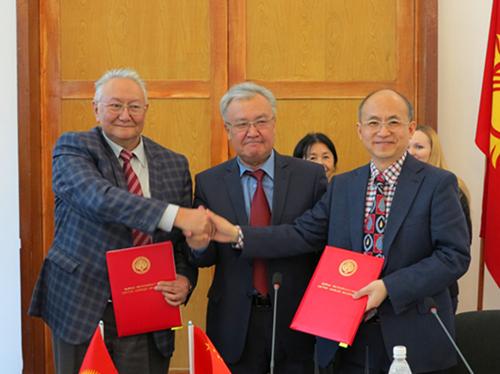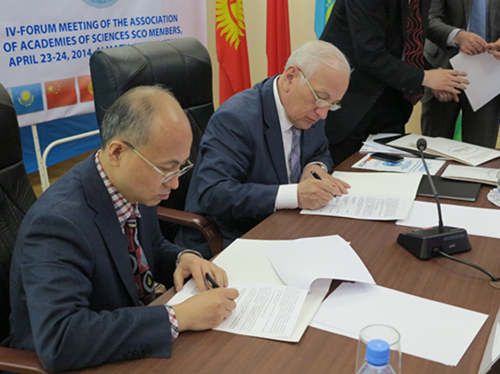 Fang Xin Meets TWAS Officials
On 14 April, Fang Xin, President of the Organization for Women in Science for the Developing World (OWSD) and Member of CAS Presidium, met with Prof. Mohamed Hassan, OWSD Special Advisor and Prof. Romain Murenzi, TWAS Executive Director on their visit to China. After the meeting, they attended the OWSD Executive Board video conference with other members in Mexico, Kuwait, Malaysia, India and Nigeria. Co-hosted by President Fang and Prof. Murenzi, the conference focused the discussion on the schedule, funding, opening ceremony and awarding procedures for the upcoming OWSD Meeting in Mexico.