Brief News
Her Majesty Queen Margrethe II Breaks Ground for SDC
Bai Chunli, President of CAS welcomed Her Majesty Queen Margrethe II of Denmark at the University of the Chinese Academy of Sciences on April 26 and jointly laid the cornerstone for the Sino-Danish Center for Education and Research (SDC). Bai, in his opening remarks, hoped that the SDC building could stand out as a landmark for people to people exchange and long term friendship between the two nations. Her Majesty Queen Margrethe II highly recognized SDC for its role in advancing bilateral understanding of the two peoples and expressed her gratitude to those who have made contributions in nurturing SDC. SDC is a joint project on education and research sponsored by several Chinese and Danish institutions, including eight Danish universities, the Danish Ministry of Science, Innovation and Higher Education, the University of the Chinese Academy of Sciences (UCAS) and the Chinese Academy of Sciences (CAS). The overall aim of SDC is to promote and strengthen collaboration between Danish and Chinese research and learning environments for the benefit of both countries.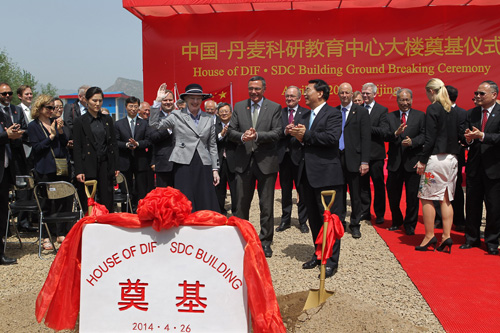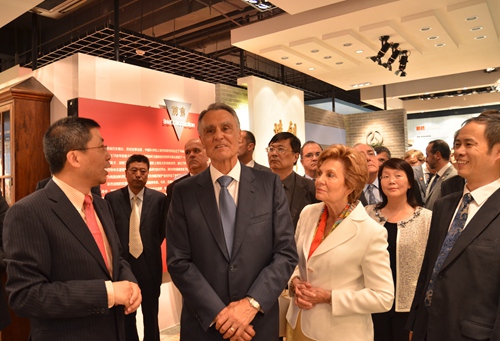 Portuguese President Visits SIMM
His Excellency, Mr. Anibal Cavaco Silva, President of the Portuguese Republic paid a visit to the Shanghai Institute of Materia Medica (SIMM), CAS during his formal visit to China. The Portuguese President was accompanied by a large delegation including Ministers of Foreign Affairs, Economy, Education and Science & Technology, Portuguese Ambassador to China, and the Shanghai Consul-General. His Excellency, Mr. Anibal Cavaco Silva and his entourage witnessed the signing of two cooperative agreements signed between SIMM and Minho University and a Portuguese biotech company named TechnoPhage respectively.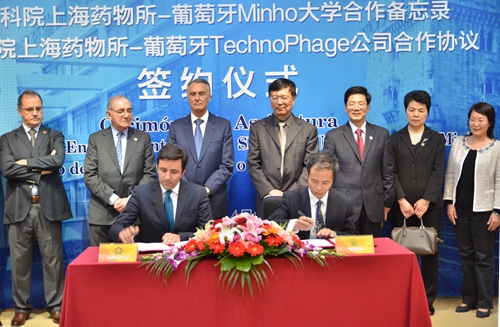 CAS and MPG Celebrate Their 40th Anniversary of Partnership
Prof. Bai Chunli, president of CAS, and Prof. Peter Gruss, president of the Max Planck Society (MPG), celebrated the 40th anniversary of partnership between the two national science institutions on May 13 in Beijing. The partnership between the two organizations has created a model for international cooperation often referred to as "a typically successful example," said Bai at the partnership celebration. He said mutual respect and trust, people, complementarity and mutual benefit, and novel means of collaboration are four fundamental factors that have contributed to the success of the partnership. Peter Gruss said that the scientific community must "pool its strengths globally" to master the challenges such as population increase and climate change. He said that the cooperation and the exchange between the two organizations extend beyond pure science: Working together in laboratories and offices leads to the formation of friendships which can last a lifetime. "Such personal relationships are an important driver of our institutional cooperation. It is these very friendships that fortify us in these uncertain times of globalization and give us a crucial advantage," said Dr. Gruss. About 150 Chinese and German scientists attended the Ceremony and the following Scientific Forum.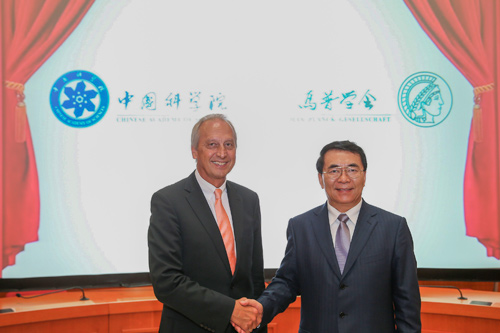 China-Africa Joint Research Center: Cooperation shall be Further Expanded
The first Council and Academic Committee of CAS China-Africa Joint Research Center (China-Africa Center) held its second meeting on May 4-6 in Wuhan Botanical Garden. Zhang Yaping, Vice President of CAS, attended the meeting in his capacity as the Council Director. The achievements of China-Africa Center since its establishment were fully affirmed by the Council and Academic Committee members. Zhang stressed the necessity and importance of establishment of the China-Africa Center, and proposed some principal points to the center on how to clear its position, carry out cooperative research, upgrade research level, achieve sustainable development, expand collaboration scope, and enhance the international influence.