Headline News
Bai Chunli Chairs the Executive Meeting of TWAS President
As President of TWAS, Prof. Bai Chunli, President of CAS, chaired the TWAS President's Executive Meeting and attended the TWAS Consulting Committee Meeting held in Rome, Italy from Feb. 4-6, 2013. The Executive Meeting discussed strategic issues on the future development of TWAS, and reviewed the Work Plan and Priorities for 2013. During the Consulting Committee Meeting, Bai met with representatives from Italian Ministry of Foreign Affairs, Ministry of Finance and UNESCO, exchanging ideas on how to enhance support for TWAS activities. Bai also witnessed the co-signing of the Agreement on CAS-TWAS President's Fellowship for PhD Candidates from the Developing Countries by Prof. Murenzi, Executive Director of TWAS and Prof. Tan Tieniu, Deputy Secretary General of CAS.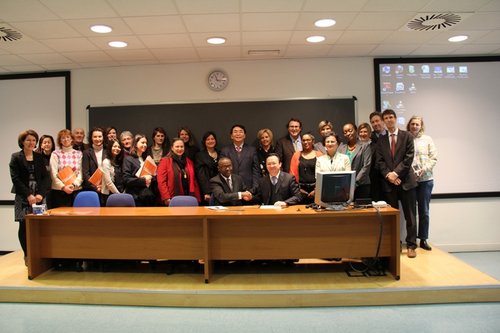 Zc (3900) is Found on BESIII
The International Collaborative Group of BESIII announced on March 26 that a new resonant structure, which was named the "Zc (3900)"had been found. The particle in this energy region, the charmonium, is formed from a charm and an anti-charm quark, and is electrically neutral. The Zc (3900) which contains a charmed quark and an anti-charmed quark pair but carries an electric charge, must also contain light quarks. With at least four quarks init, the Zc (3900) is very probably an exotic particle which has been hunted for by the scientists for a long time. After further improvement of the BESIII, which was put into normal operation, its performance has been largely increased. There were over 300 scientists from 50 universities or institutes of 11 countries participated in the BESIII experiment. The mass of the Zc (3900) is slightly higher than that of a helium atom and its life time is about 10-23 second. It decays into a charged π meson and a J/ψ meson copiously, which is in striking contrast to the conventional mesons in this mass region. Although the spin-parity as well as the production and decay properties of it is unknown, the Zc (3900) has already supplied strong indication of its exotic properties. The understanding of its nature, will shed light in understanding how the strong force binds the quarks into hadrons and in the test and development of the theory of strong interaction, Quantum Chromodynamics (QCD).