Brief News
Bai Chunli Meets with Iranian S&T Delegation
On April 25, CAS President Professor Bai Chunnli met with Mr. Kamran Daneshjoo, Minister of Iranian Ministry of Science, Research and Technology (MSRT). Prof. Bai expressed his condolences over the victims of the recent earthquakes striking Iran, reaffirming that CAS would maintain close collaboration with Iranian scientific community in many areas of nano-technology, agriculture, eco-environment, bio-medicine, IT and so on. Minister Daneshjoo expressed his appreciations and suggested life science being one of the top priorities. The meeting also explored the possibility of strengthening cooperation through the platform of The World Academy of Sciences (TWAS) for the advancement of science in the developing world.
Li Jinghai Visits Swiss
CAS Vice President Professor Li Jinghai visited Germany and Swiss from April 22-28. Prof. Li attended the 2013 International Conference of Particle Technology held in Nuremberg. As Vice-Editor-in-Chief, Prof. Li also attended the meeting of the Editing Board of Power Technology during his visit to Germany. In Swiss, Prof. Li visited the Lausanne Federal Polytechnic University. Experts from both sides reached consensus on cooperation in fields of space science, nano-science and technology, and energy technology.
Yin Hejun Visits Italy and Austria
From April 28 to May 3, CAS Vice President Professor Yin Hejun visited scientific research institutions, universities and enterprises in Italy and Austria. Professor Yin attended and delivered an invited speech at the 9th ESA-China Space Science Bilateral Meeting, and visited the European Space Research Institute, Italian National Institute of Nuclear Physics (INFN), Italian Space Agency, Space Qualification Lab and other institutions in Italy. Professor Yin met with A. Gimenes, Director of Science and Robotic Exploration of ESA, and Fernando Ferroni, President of INFN, and had in-depth discussion on furthering cooperation in space science. Professor Yin also witnessed the signing of a series of cooperation agreements between CAS and its counterpart institutions in Italy. On May 3, Professor Yin attended the festive opening ceremony of "Vienna-Quantum-Space-Link" held in Vienna, Swiss, along with K. Toechterle, Austrian Federal Minister for Science and Research, H. Denk, President of the Austrian Academy of Sciences and H. Engl, Rector, University of Vienna.
Zhang Yaping Meets with Michael Barber
On May 8, CAS Vice President Professor Zhang Yaping met with Professor Michael N. Barber, Vice-Chancellor of Flinders University. On behalf of the President of CAS, Prof. Zhang expressed his warm welcome to Professor Barber for his first visit to CAS, and introduced the current status of cooperation between CAS and Australian universities/research institutions. The two sides explored opportunities of cooperation in areas such as the joint training of doctoral students and exchange of young scientists.
Fang Xin Visits Morocco and Turkey
Professor Fang Xin, Member of the CAS Presidium and Chairman of the OWSD, paid a visit to scientific organizations for women in Morocco and Turkey in early May. During her visit, Professor Fang had meetings with Professor Badia Tabiyaoui, Vice-Chancellor of the University Chouaib Doukkali, Moroco and Chairman of OWSD National Chapter, and Professor Fatma, Director of Women Study Center of Istanbul Technical University, Turkey. The meetings reached consensus on close cooperation between OWSD and the National Chapter, the convening of 2014 OWSD Fifth Congress and the OWSD fellowships.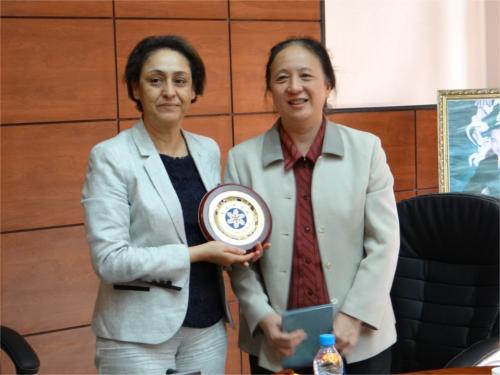 Tan Tieniu Visits Germany
CAS Deputy Secretary-General Professor Tan Tieniu visited the Max-Planck Society (MPG), Fraunhofer Society, Helmholtz-Zentrum Dresden-Rossendorf (HZDR), and the Technical University of Munich in late May. Professor Tan attended the 6th Sino-German Frontiers of Science Symposium. During the three-day meeting, around 60 young scientists from universities and research institutions of China and Germany gathered, and exchanged knowledge and ideas on the frontiers of science in six emerging areas: materials, optogenetics, exploring biological world by chemical tools, computational sustainability, and isotopes as indicators for processes in the sub-surfaces.