Brief News
Bai Chunli Visits US
From Apr. 25 to May 1, Bai Chunli, President of CAS and his entourage paid a visit to the US National Academy of Sciences (NAS), Department of Energy (DOE), National Science Foundation (NSF), University of Minnesota, Corning Incorporated, 3M Co. TSI Incorporated and other organizations. During his visit, Bai also met with quite a few outstanding overseas Chinese students and experts, delivered lectures at the University of Minnesota and Corning Incorporated respectively. Bai was also awarded honorary doctorate title by the University of Minnesota. This visit not only enhanced the exchanges with high-level personage working in American Technology, Academic and Business circles, but also promoted cooperation between CAS and the above mentioned academic research institute, research funding organization, research-oriented university and innovation oriented enterprises, thereby increasing mutual understanding, building up trust and friendship, consolidating and strengthening bilateral cooperation and targeting work improvement for overseas talents.
Bai Chunli Meets Brazilian Minister
On Apr.11, Bai Chunli, President of CAS met with a senior delegation headed by Dr. Aloizio Mercadante, Minister of Science and Technology of Brazil (MSTB). Yin Hejun, Vice President, also attended the meeting. President Bai held that the signing of Memorandum of Understanding for Science and Technology Cooperation between MSTB and CAS in last March haslaid a solid foundation for future cooperation between the two sides. Dr. Mercadante hoped that some specific projects in priority fields might be considered and implemented in joint efforts of MSTB and CAS within the framework.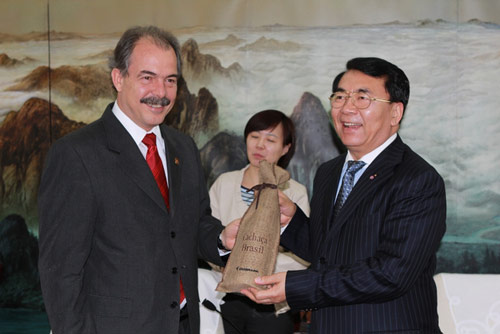 Bai Chunli Meets Bruce Alberts
On May 20, Bai Chunli, President of CAS met with Bruce Alberts, editor in chief of Science. During the meeting, they exchanged views on comprehensive scientific issues, including ethics of science, appraisal of scientific research projects and personnel training.
Jiang Mianheng Meets Thomas Mason
On May 12, Jian Mianheng, Vice President of CAS met with Dr. Thomas Mason, Director of the Oak Ridge National Laboratory and exchanged views with him on relevant scientific issues, particularly the cooperation between the two sides and the future development of institutes of CAS and the Laboratory as well as the training of young scientists.
Shi Erwei Meets Nobel Prize Laureate
On March 29, Shi Erwei, Vice President of CAS, met with Dr. Eiichi Negishi, laureat of the 2010 Nobel Prize in Chemistry and his entourage. Dr. Eiichi Negishi was awarded Honorary Professor title by the Shanghai Institute of Ceramics.
Li Jiayang Elected as Foreign Associate of NAS
On May 3, NAS announced that 72 American scientists and 18 foreign scientists from 15 countries were elected members and foreign associates of NAS respectively. Li Jiayang, Vice President and member of CAS, and research fellow of the Institute of Genetics and Developmental Biology was among the newly elected foreign associates.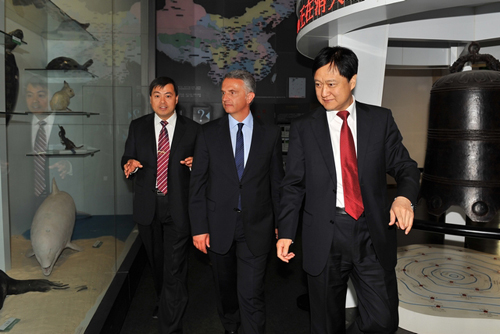 Li Jinghai Meets Didier Burkhalter
Li Jinghai, Vice President of CAS, met with Mr. Didier Burkhalter, Interior Minister of Switzerland, and his entourage on Apr. 26th at the National Zoological Museum, who was on a visit to the Olympic Science and Technology Park, CAS. Li confirmed to Mr. Burkhalter that the cooperation between the CAS and Swiss relevant S&T institutions has been made substantial progress since the new model for the cooperation that was established in 2008.
Fang Xin Present at OWSDW Meeting
Fang Xin, President of the Organization for Women in Science for the Developing World (OWSDW) and member of CAS Presidium was present at and presided over the OWSDW Executive Board Meeting, which was sponsored by the Kuwait Institute of Scientific Research (KISR), and held from May 30th to June 1st in the Kuwait City. Over 20 representatives, including all members of the OWSDW Executive Board from 9 countries, A.AI-Mulaifi, Minister of Education of Kuwait and AI-Mutairi, head of KISR, attended the meeting.
Tan Tieniu Meets Riitta Mustonen
Tan Tieniu, Vice Secretary General of CAS met with Ms Riitta Mustonen, the visiting Vice President of the Academy of Finland (AF) and her entourage on Apr. 13th. Tan confirmed that CAS stood ready to cooperate with AF and relevant organizations, including universities, and welcome Finland research fellows to participate in the joint research programs of CAS. Ms Mustonen indicated that CAS was the top preferred partner of Finland research institutions including AF, which would consistently encourage Finnish scientists to still widen the fields in collaboration with their Chinese partners.