International Cooperation
First Sino-American S&T Strategy Workshop Held in US
The First Session of the Sino-American S&T Strategy Workshop sponsored by CAS and the National Academy of Science, USA was held in Washington, D. C. from April 12th to 13th. Lu Yongxiang, president of CAS and his entourage were present at the workshop. The lectures given at the workshop were focused on the S&T development strategy, energy and environment policies. The two sides agreed that the workshop will be held every two years in turn, thus the next session of the workshop will be held in China in 2010. The purpose of the workshop is oriented to exchanges and cooperation in commonly interested fields, such as the macro development of science and technology and strategy and policy of energy, environment, etc., which will help the two academies strengthen their consultative function in formulating the national S&T development strategy and policy in the two countries respectively.
Fifth Session Meeting of Tan Kah Kee Science Award Foundation Held
On May 7, the Fifth Session of the First Council of the Tan Kah Kee Science Award Foundation was held in Beijing. Lu Yongxiang, President of CAS and Chairman of the Council presided over the session. Lu pointed out in his speech that the Tan Kah Kee Science Award aimed at rewarding Chinese scientists with significant home-grown scientific and technological achievements. After the meeting, a donation ceremony for the Bank of China¡¯ was held. The Bank of China bestowed another 10 million RMB yuan to the Foundation this time.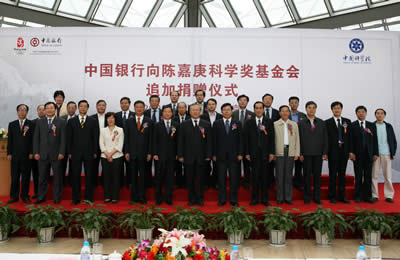 5th Sino-Japanese Forum on S&T Strategy and Policy Launched
On June 4 and 5th, the Sino-Japanese Forum on Science and Technology Strategy and Policy was held in Urumqi, which was jointly sponsored by the Japanese Ministry of Education, Culture, Sports, Science and Technology and CAS. Shi Erwei, Vice President of CAS and more than 20 scientific research and management personnel from relevant institutes of CAS, and 16 Japanese representatives including experts and scholars such as Akito Arima, President of Japan Science and Technology Agency, Yukihide Hayashi, Director-general of Science and Technology Policy Bureau of the Japanese Ministry of Education, Culture, Sports, Science and Technology, etc. attended the forum.
Other Issues

Sixtieth Issue (October 2008)

Fifty-nineth Issue (August 2008)

Fifty-eighth Issue (June 2008)

Fifty-seventh Issue (April 2008)

Fifty-sixth Issue (February 2008)

Fifty-fifth Issue (December 2007)

Fifty-fourth Issue (October 2007)

Fifty-third Issue (August 2007)

Fifty-second Issue (June 2007)

Fifty-first Issue (April 2007)

Fiftith Issue (Feb. 2007)

Fourty-nineth Issue (December, 2006)

Fourty-eighth Issue (Ocboter, 2006)

Fourty-seventh Issue (August, 2006)

Fourty-sixth Issue (June, 2006)

Fourty-fifth Issue (April, 2006)

Fourty-fourth Issue (February, 2006)

Fourty-third Issue (December, 2005)

Fourty-second Issue (October, 2005)

Fourty-first Issue (August, 2005)

Fourtith Issue (June, 2005)

Thirty-ninth Issue (April, 2005)

Thirty-eighth Issue (February, 2005)

Thirty-seventh Issue (December, 2004)

Thirty-sixth Issue (October, 2004)

Thirty-fifth Issue (August, 2004)

Thirty-fourth Issue (June, 2004)

Thirty-third Issue (April, 2004)

Thirty-second Issue (February, 2004)

Thirty-first Issue (December, 2003)

Thirtieth Issue (October, 2003)

Twenty-nineth Issue (August, 2003)

Twenty-eighth Issue (June, 2003)

Twenty-seventh Issue (Spring, 2003)