Basic Science
Coherent and Coupling Output of 26W Two-dimensional Fiber Laser Array Realized
Researchers from the Shanghai Institute of Optics and Fine Mechanics, CAS have successfully carried out the coherent and coupling output of 26W lasers. In the experiment, by using the fiber laser array consisting of four beams of two-dimensional fiber lasers that share an external cavity, they realized the phase locking of this fiber laser array and observed the stable and clear laser spot pattern of the coherent array. It is another major breakthrough in the high power fiber laser field following the single fiber laser bearing kilowatt power and the high power coherent beam combination from two fiber lasers.
Perpendicular Alignment of Rigid Polythiophene Backbones to Substrate Achieved
A research group headed by Yang Xiaoniu from the State Key Laboratory of Polymer Physics and Chemistry, the Changchun Institute of Applied Chemistry, CAS has successfully achieved perpendicular alignment of rigid polythiophene backbones to the substrate by using solvent-vapor treatment. In the experiment, they found that the large-dimensional CS2 vapor treated thin P3BT film that is composed of homogeneously distributed spherulites still preserves its original homogeneity of spin-coated pristine film. The most lamellar crystals are uniformly oriented without twist as they still keep their typical width of ~ 40nm. Their feat has been reported on the German journal Advanced Materials (Adv. Mater. 2007, 19, 3594-3598).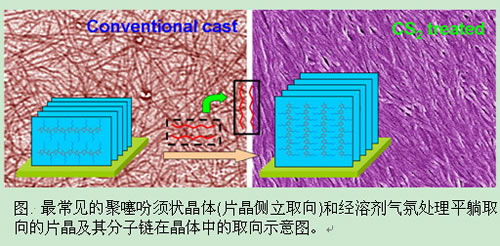 Other Issues

Sixtieth Issue (October 2008)

Fifty-nineth Issue (August 2008)

Fifty-eighth Issue (June 2008)

Fifty-seventh Issue (April 2008)

Fifty-sixth Issue (February 2008)

Fifty-fifth Issue (December 2007)

Fifty-fourth Issue (October 2007)

Fifty-third Issue (August 2007)

Fifty-second Issue (June 2007)

Fifty-first Issue (April 2007)

Fiftith Issue (Feb. 2007)

Fourty-nineth Issue (December, 2006)

Fourty-eighth Issue (Ocboter, 2006)

Fourty-seventh Issue (August, 2006)

Fourty-sixth Issue (June, 2006)

Fourty-fifth Issue (April, 2006)

Fourty-fourth Issue (February, 2006)

Fourty-third Issue (December, 2005)

Fourty-second Issue (October, 2005)

Fourty-first Issue (August, 2005)

Fourtith Issue (June, 2005)

Thirty-ninth Issue (April, 2005)

Thirty-eighth Issue (February, 2005)

Thirty-seventh Issue (December, 2004)

Thirty-sixth Issue (October, 2004)

Thirty-fifth Issue (August, 2004)

Thirty-fourth Issue (June, 2004)

Thirty-third Issue (April, 2004)

Thirty-second Issue (February, 2004)

Thirty-first Issue (December, 2003)

Thirtieth Issue (October, 2003)

Twenty-nineth Issue (August, 2003)

Twenty-eighth Issue (June, 2003)

Twenty-seventh Issue (Spring, 2003)