Applied Technology

New Method to Synthesize Cyclohexanecarboxylic Acid Patented
The CAS Changchun Institute of Applied Chemistry recently received a national patent for invention for its new method to synthesize the cyclohexanecarboxylic acid by catalytic hydrogenation of benzoic acid. Under the mild reaction conditions, a ring catalytic reaction is started between the benzoic acid and hydrogen in supercritical carbon dioxide and cyclohexanecarboxylic acid with the rhodium-supported transition metal catalyst. Then the cyclohexanecarboxylic acid is extracted from the supercritical carbon dioxide solvent. By using the new technique, the production rate of high quality cyclohexanecarboxylic acid (with purity of 99.99%) can reach more than 99.5%.
The ring hydrogenation of benzoic acid to cyclohexanecarboxylic acid over charcoal-supported transition metal catalysts in supercritical CO2 medium has been studied in the present work. The cyclohexanecarboxylic acid can be produced efficiently in supercritical CO2 at the low reaction temperature of 323 K. The presence of CO2 increases the reaction rate and several parameters have been discussed.
Hydrogenation of benzoic acid to cyclohexanecarboxylic acid over several transition metal catalysts under supercritical CO2 medium has been studied. This study demonstrates that ring hydrogenation of benzoic acid can be successfully carried out in scCO2 medium with Rh/C catalyst at the low reaction temperature of 323 K, in which without any waste was produced and the catalyst separation from product can be handled easily by simple phase separation. Use of scCO2 as alternative media for hydrogenations promises to overcome some of drawbacks described associated with conventional organic solvents and offers both process and environmental advantages.
Breakthrough in Advancing Coal Gasification Technology
CAS researchers have successfully carried out a 1.0MPa, long period (up to 72 hours) high pressure testing on a semi-industrial platform of pressurized ash agglomerating fluidized bed (AFB) coal gasification, which was jointly developed by the Institute of Coal Chemistry (ICC), CAS and Jincheng Anthracite Mining Group, both being in north China's Shanxi Province. During the test, the equipment operated smoothly and all the expected technical indicators have been achieved. The successful test showcases a breakthrough in the AFB coal gasification.
The experiment shows that, with anthracite mined from Jincheng as its feedstock, the platform could process 2.5 tons of coal per hour (or 60 tons per day) under the operation temperature between 1020-1050oC, with the carbon conversion rate reaching 87%, gas yield as many as 1.8Nm3 dry gas/kg coal, and content of effective gases (CO plus H2) up to 65%-66%. The test indicates that the capacity of 1.0 MPa industrial scale unit (with 2.4 meter inside diameter) could be 600 tons of coal daily matched for a 120,000 ton/a. methanol plants to synthesize NH3.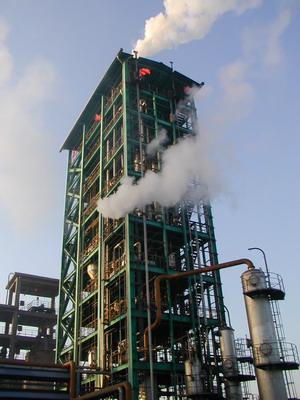 Other Issues

Sixtieth Issue (October 2008)

Fifty-nineth Issue (August 2008)

Fifty-eighth Issue (June 2008)

Fifty-seventh Issue (April 2008)

Fifty-sixth Issue (February 2008)

Fifty-fifth Issue (December 2007)

Fifty-fourth Issue (October 2007)

Fifty-third Issue (August 2007)

Fifty-second Issue (June 2007)

Fifty-first Issue (April 2007)

Fiftith Issue (Feb. 2007)

Fourty-nineth Issue (December, 2006)

Fourty-eighth Issue (Ocboter, 2006)

Fourty-seventh Issue (August, 2006)

Fourty-sixth Issue (June, 2006)

Fourty-fifth Issue (April, 2006)

Fourty-fourth Issue (February, 2006)

Fourty-third Issue (December, 2005)

Fourty-second Issue (October, 2005)

Fourty-first Issue (August, 2005)

Fourtith Issue (June, 2005)

Thirty-ninth Issue (April, 2005)

Thirty-eighth Issue (February, 2005)

Thirty-seventh Issue (December, 2004)

Thirty-sixth Issue (October, 2004)

Thirty-fifth Issue (August, 2004)

Thirty-fourth Issue (June, 2004)

Thirty-third Issue (April, 2004)

Thirty-second Issue (February, 2004)

Thirty-first Issue (December, 2003)

Thirtieth Issue (October, 2003)

Twenty-nineth Issue (August, 2003)

Twenty-eighth Issue (June, 2003)

Twenty-seventh Issue (Spring, 2003)