Brief News
Lu Yongxiang Meets Aufderheide
On Feb. 24, Lu Yongxiang, President of CAS, met with Dr. Enno Aufderheide, new Secretary-General of the German Alexander von Humboldt Foundation (hereinafter referred to as the Foundation) and his entourage. Lu first conveyed congratulations to Dr. Aufderheide on assuming the position of Secretary-General and then spoke highly of the important role the Foundation played in promoting and fostering of young researchers and research cooperation between China and Germany. Dr. Aufderheide pointed out that CAS was the most important and influential partner of the Foundation in China. In addition, he expressed that the Foundation will encourage young German researchers to work in China for a certain period of time, particularly in some of the CAS research institutions.
Lu Yongxiang Meets Campbell
On Mar. 6, Lu Yongxiang, Co-chair of the InterAcademy Council (IAC), met with the visiting Dr. John P. Campbell, Executive Director of IAC. Lu briefed Dr. Campbell the major changes in the leadership of the CAS. Bai Chunli, the new President of CAS, had been working for CAS for a long time, and always paid great attention to international cooperation, Lu said, CAS will thus continue to take an active part as well as play an important role in IAC.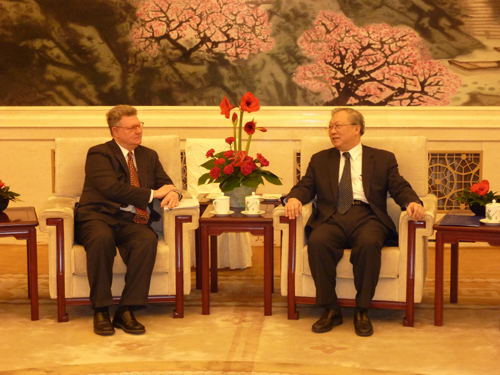 Bai Chunli Visits Saudi Arabia
From Feb. 25 to 26, Bai Chunli, Executive Vice President of CAS and President of the Graduate University of CAS (GUCAS) led a delegation to visit the King Abdullah University of Science and Technology (KAUST) in Saudi Arabia. Prof. Shih Choon Fong, President of KAUST met with the delegation. During the visit, an agreement for student exchange between GUCAS and KAUST was signed.
Jiang Mianheng Visits Chile, Argentina and Brazil
From Mar. 6 to 17, Jiang Mianheng, Vice President of CAS paid a visit to Chile, Argentina and Brazil with his entourage. The delegation focused their discussion and survey on the overall S & T systems and current development status of the three countries, and exchanged views on relevant issues. The potential fields for bilateral or multilateral cooperation were explored. During his visit, a MOU on Science and Technology Cooperation between CAS and the Ministry of Science and Technology of Brazil was signed.
Shi Erwei Visits Japan
From Feb. 17 to 23, Shi Erwei, Vice President of CAS, headed a delegation to visit Japan. In Japan, the delegation paid a visit to Ministry of Education, Culture, Sports, Science and Technology (MEXT), Sony Corp., Nagoya University and the Inter-Department Advanced Research Center of the National Institute of Advanced Industrial Science and Technology (AIST). During his meeting with Yasutaka Moriguchi, Vice Minister of MEXT, they both agreed to hold the Eighth China-Japan Science and Technology Policy Symposium this year. At the meeting of the Joint Council for the project cooperation between CAS Institute of Ceramics and Sony, both sides were satisfied with the progress that has been made so far.
Li Jiayang Visits Switzerland, Austria and Denmark
From Mar.16 to 27, Li Jiayang, Vice President of CAS, paid visit to several universities, scientific research institutions and corporations of Switzerland, Austria and Denmark with his entourage. During the visit to Austria, Li called on Prof. Arnold Suppan, President of Austrian Academy of Science. On Mar.25, the Fourth Novo Nordisk-CAS Research Foundation Board Conference held in the Novo Nordisk headquarters. Li Jiayang and Dr. Mads Krogsgaard Thomsen, Executive Vice President and Chief Science Officer (CSO), on behalf of CAS and Novo Nordisk respectively, concluded the supplementary agreement for bilateral cooperation.
Yin Hejun Visits Germany, Spain and Hong Kong
From Mar. 3 to 14, Yin Hejun, Vice President of CAS, headed a delegation to visit the Max Planck Society in Germany, European Space Agency (ESA) in Spain and the Chinese University of Hong Kong (CUHK). During his visit to Spain, Yin and Prof. David Southwood, ESA¡¯s Director of Science, jointly hosted the seventh China - EU Space Science Symposium. In Hong Kong, Yin Hejun was present at the signing ceremony conducted by the Center for Earth Observation and Digital Earth, CAS and the Institute of Space and Earth Information Science of CUHK.
Fang Xin Meets Russian Guests
On Mar.7, Fang Xin, Member of the CAS Presidium, met with Mr. Yuri Mikhailovich Baturin, Russian astronaut and Director of the Institute of History of Natural Science and Technology of the Russian Academy of Sciences (RAS) and Mrs. Baturin. The RAS Institute of History of Technology was founded in 1932.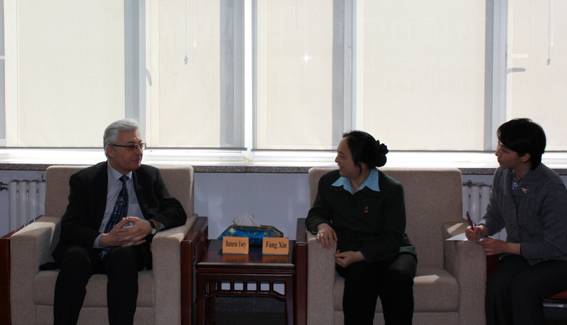 Tan Tieniu Meets Tony Hey
On Feb.24, Tan Tieniu, Vice Secretary General of CAS met with Prof. Tony Hey, Vice President of Microsoft Corporation and his entourage. Both sides exchanged views on how to strengthen cooperation in the future and reached a preliminary consensus on several issues including co-sponsoring of an E-Science Symposium.