Brief News
Lu Yongxiang Visits India
From Dec. 20 to 25, 2010 Lu Yongxiang, President of CAS made a visit to India with his entourage. His visit was focused on the Indian National Science Academy (INSA), Council of Scientific and Industrial Research (CSIR), Indian Institute of Technology (IIT) and Judavpur University (JU), etc. During his visit, Lu was awarded the Jawaharlal Nehru Birth Centenary Medal by INSA and an Honorary Doctorate title by Judavpur University. On the morning of Dec. 22, Lu Yongxiang and his entourage visited Indian Institute of Technology, Delhi and INSA. At the ceremony held by INSA, Lu Yongxiang delivered a speech entitled ¡°Joining Hands to Create a Better Future¡±. On Dec. 24, Lu also made a lecture at the 55th graduation ceremony of the Judavpur University.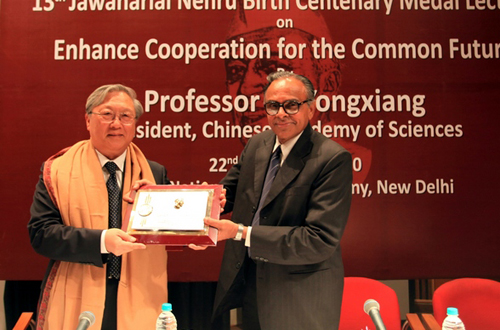 Lu Yongxiang Meets Dijkgraaf
On Dec. 20, 2010 Lu Yongxiang, Co-Chairman of IAC and President of CAS, met with visiting Dr. Dijkgraaf, Co-Chairman of IAC and President of KNAW. The two chairmen expressed their satisfaction for IAC¡¯s successful completion of the evaluation report of IPCC entrusted by the UN. Both sides also conducted in-depth discussions on IAC¡¯s development strategy, expenditure of research projects on water issues, agenda for the next council meeting, etc. Consensus was reached for all the issues discussed.
Bai Chunli Delivers Keynote Speech at 7th World Congress on High Speed Rail
The 7th World Congress on High Speed Rail was held from Dec. 7 to.9, 2010 in Beijing. This is the first congress that has ever held outside Europe. The congress was held under the main theme ¡°High Speed Rail Shouldering Green Transport¡±. Bai Chunli, Executive Vice President of CAS was present at the congress and delivered a keynote speech at the closing ceremony of the congress. Bai Chunli stressed in his speech that the targets for the next step scientific research should be focused on the improvement and upgrade of the reliability, comfortness and adaptability of the rail transport. He convinced that with support of the Chinese government and the joint efforts of researchers and railway workers, China will make still more solid contributions to the development of the world¡¯s high speed rail. There were totally around 2,500 participants attending the congress, including leaders from some countries, officials from the international organizations, governmental departments of different countries, foreign embassies to China, multi-national companies, railway companies and China¡¯s related institutions.
Jiang Mianheng Visits USA
Jiang Mianheng, Vice President of CAS paid a visit to USA from Jan. 18 to 22. During his visit, Jiang Mianheng signed a protocol on energy science cooperation with Steven Koonin, Under Secretary of the United States Department of Energy (DOE) on behalf of CAS during his visit. The protocol between CAS and DOE was the first framework agreement between the two institutions, covering nuclear physics, nuclear science, basic energy science, biological science and environmental science, high energy physics and other fields. This agreement is expected to further promote the extensive and substantial cooperation between the two parties.
Li Jiayang Visits USA
From Jan. 11 to 16, Li Jiayang, Vice President of CAS, headed a delegation of life sciences to visit some U.S. universities, including the Stanford University, University of California at Berkeley, at Los Angeles and at San Diego, and some non-profit research institutions, including Department of Plant Science of the Carnegie Institution and Sanford-Burnham Medical Research Institute. During the visit, he also attended the 19th International Plant and Animal Genomics Conference, held in San Diego and delivered a key-note lecture on functional genomics of rice.
Li Jinghai Present at CAS-RAE Workshop
Li Jinghai, Vice President of CAS headed a delegation to attend the Workshop on the Future of Energy Storage Technology and Policy from Jan. 27-28. Prof. Richard Williams, UK Chair, OBE FREng, University of Leeds and former Vice President of RAE chaired the workshop. The theme of the workshop covered current national energy landscape and research strategy, academic and industrial capacity in electrical energy storage and relevant national strategy and policy. There were totally around 40 experts from the UK Department of Energy and Climate Change, Department for Business, Innovation and Skills, Department for Transport, National Grid, etc. and CAS institutes and relevant institutions attending the workshop. After the workshop, Li Jinghai held talks with Prof. Richard Williams.
Ding Zhongli Visits Vietnam and Cambodia
To strengthen the cooperation between CAS and ASEAN countries in science and technology, Ding Zhongli, Vice President of CAS led a delegation to visit Vietnam and Cambodia from Jan. 12 to 19. During the period, he visited Vietnam Academy of Science and Technology and its Institute of Geography, Institute of Geological Sciences, Institute of Tropical Biology, Institute of Oceanography and other relevant institutions of Vietnam, and later the Ministry of Environment of the Kingdom of Cambodia.