Hightlight Events
Australian Ambassador to China Visits Nanjing Branch
Her Excellency Ms. Frances Adamson, Australian Ambassador to China, expressed her commitment to facilitate Sino-Australian science and technology cooperation during her visit to the CAS's Nanjing Branch and Nanjing Institute of Geology and Palaeontology on Dec. 5, 2012. Ms. Adamson held a meeting with Gu Xiaohong, Deputy Director General of the Nanjing Branch. She said it was her first time visiting a subsidiary branch or institute of CAS. Through the visit and meeting, she came to know more about the operations and research capacity of CAS and saw more opportunities of Sino-Australian cooperation in science and technology. In recent years, the CAS Nanjing Branch and its institutes have conducted extensive exchange and cooperation with Australian academic institutions through cooperative projects, personnel exchange, international conference, etc. A positive relationship has been established between the two sides.

China's National Alliance of Academies of Sciences Established
The National Alliance of Academies of Sciences was established in Beijing on Dec. 8, 2012. The Alliance was led by the Chinese Academy of Sciences (CAS) in conjunction with 17 local academies of sciences. The 18 members signed the Beijing Declaration during the ceremony, agreeing to establish an innovation-driven developing mode by promoting strategic cooperation, integrating innovation resources and building a collaborative innovation system.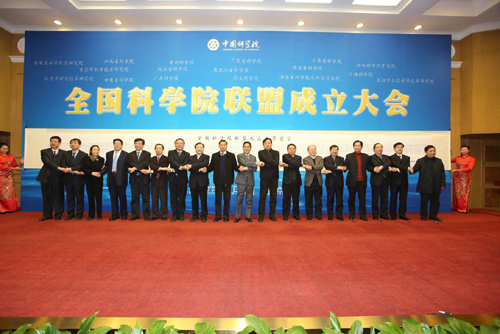 China Unveils Top Domestic and International S&T News Events of 2012
The Chinese Academy of Sciences (CAS) and the Chinese Academy of Engineering (CAE), jointly unveiled top 10 news events of domestic science and technology progress for the year 2012 as well as top 10 international S&T news events on Jan. 19. Selected via a vote by academicians from both organizations, the Top 10 Domestic S&T News Events are as follows:
astronauts complete docking between Shenzhou-9 spacecraft and orbiting Tiangong-1 lab module;
manned submersible Jiaolong sets new national dive record after reaching over 7,000 meters below sea level;
world's first high-speed railway in areas with extremely low temperatures, Harbin-Dalian rail, starts operation;
full coverage of moon map and moon images with resolution of seven meters captured by Chang'e-2 published;
Sunway Blue Light supercomputer, domestically built and capable of performing around one-thousand-trillion calculations per second, passes examination;
tests on new 120-tonne-thrust liquid oxygen and kerosene engine for carrier rocket, Long March-5, successfully conducted;
research on experimental demonstration of topological error correction with eight-photon cluster state marks breakthrough in quantum information processing research;
Chinese and foreign physicists during Daya Bay Reactor Neutrino Experiment confirm and measure third type of neutrino oscillation;
hepatitis E vaccine approved;
Asia's biggest radio telescope unveils in Shanghai.

The Top 10 International S&T News Events are as follows:
NASA's robotic rover Curiosity lands on Mars;
Canadian scientists create artificial brain;
scientists manufacture world's thinnest nanowires;
new evidence discovered in research on cancer stem cells;
scientists find suspected 'God particle';
Japanese researchers produce real mice by joining artificial egg and artificial sperm cell;
British researchers find principle to develop high-speed magnetic storage devices;
colossal black hole equal to 17 billion Suns discovered;
German scientists obtain somatic stem cells from skins cells for first time;
advent of first photonic circuit.