Lu Yongxiang Visits Australia and New Zealand
Lu Yongxiang, President of CAS, completed a one and half days visit to Auckland, New Zealand, with his entourage on Nov. 14th. During his stay there, Mr. Lu delivered a speech entitled ¡°Reinforcing S & T Innovation and Striving to Build a Harmonious Society¡± at the invitation of the University of Auckland, which produced enthusiastic response from the over 300 participating students and professors. The University of Auckland held a grand ceremony to confer Mr. Lu and another two, including Governor of New Zealand, degrees of Honorary Doctor of Engineering and law. During his trip to Australia after visit to New Zealand, Prof. Lu delivered a lecture entitled ¡°China¡¯s Prospects in the Future¡± at the invitation of the Australian Academy of Science. He also attended the opening ceremony of the 3rd China-Australia S & T Symposium.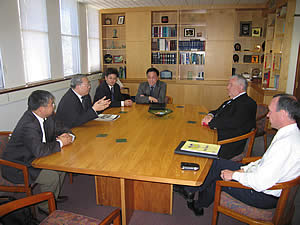 Bai Chunli Meets NIST Vice President and Newly Elected Foreign Member of CAS
On Oct. 17th, Bai Chunli, Executive Vice-President of CAS, met with organizers of the famous US Gordon Conference, including Peter Stang, newly elected foreign member of CAS in 2006. Taking this opportunity, Mr. Bai conferred Peter Stang CAS Foreign Membership on behalf of CAS.
Li Jinghai Meets Executive Secretary of 2007 Budapest World Science Forum
On Oct. 11th 2006, Li Jinghai, Vice President of CAS, met with visiting Prof. Hencsey Gusztav, Executive Secretary of the 2007 Budapest World Science Forum. First, Prof. Hencsey Gusztav briefed Prof. Li the work progress of the Organizing Committee of 2007 World Science Forum; then they exchanged ideas on the organizing issues and work related to the Steering Committee of the World Science Forum.
Kim Hak-Su, UN Under Secretary-General Visits Institute of Oceanology
Days ago, a 4-member delegation, led by Dr. Kim Hak-Su, Under Secretary General of the United Nations and Executive Secretary of UNESCAP, paid a visit to the Institute of Oceanology, CAS, and held talks with the S &T researchers there. Dr. Kim Hak-Su hoped that the Institute of Oceanology, CAS could strengthen the cooperation and exchanges with the United Nations and particularly with UNESCAP in an all-round way, in an effort to make contributions to the human peace and progress.