Remarkable Progress in Quantum Communication Made
Recently, scientists of the Hefei National Laboratory for Physical Sciences at the Microscale, the CAS-affiliated University of Science and Technology of China, have made another remarkable progress in the quantum communication filed. The research team is led by Prof. Pan Jianwei and his colleagues of Yang Tao, Zhang Qiang, etc. In the experiment, they have successfully realized the teleportation of combined polarization states - including entanglement - of two photons. To make their experiment successful, the researchers have developed a unique six-photon interferometer to transfer the combined polarization state of two photons, with the remaining four photons serving as the "teleporter" polarized.
The feat was reported as the cover story in the October issue of the Nature Physics, being the first case for Chinese scientists. It is also for the first time that such experiment succeeds in the world.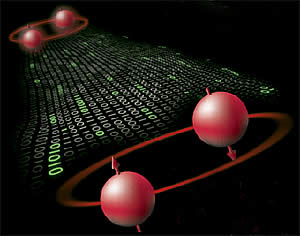 CAS Rotor Flying Robot Debuted in CHTF
On Oct. 12th, 2006 one rotor flying robot developed by the Shenyang Institute of Automation, CAS debuted on China Hi-Tech Fair (CHTF) 2006. Capable of 30kg payload and 30km flight radius coverage, the robot enjoys extensive application prospects in the fields of disaster survey and salvation, aerial surveillance, power transmission line inspection, air photography and photogrammetry, etc. On the exhibition day, dozens of company clients expressed their strong interests in the robot.
Other Issues

Fifteenth Issue (Spring 2000)

Sixteenth Issue (Summer 2000)

Seventeenth Issue (Autumn 2000)

Eighteenth Issue (Winter 2000)

Nineteenth Issue (Spring 2001)

Twentith Issue (Summer 2001)

Twenty-first Issue (Autumn 2001)

Twenty-second Issue (Winter 2001)

Twenty-third Issue (Spring 2002)

Twenty-forth Issue (Summer 2002)

Twenty-fifth Issue (Autumn 2002)

Twenty-sixth Issue (Winter 2002)

Twenty-seventh Issue (Spring, 2003)

Twenty-eighth Issue (June, 2003)

Twenty-nineth Issue (August, 2003)

Thirtieth Issue (October, 2003)

Thirty-first Issue (December, 2003)

Thirty-second Issue (February, 2004)

Thirty-third Issue (April, 2004)

Thirty-fourth Issue (June, 2004)

Thirty-fifth Issue (August, 2004)

Thirty-sixth Issue (October, 2004)

Thirty-seventh Issue (December, 2004)

Thirty-eighth Issue (February, 2005)

Thirty-ninth Issue (April, 2005)

Fourtith Issue (June, 2005)

Fourty-first Issue (August, 2005)

Fourty-second Issue (October, 2005)

Fourty-third Issue (December, 2005)

Fourty-fourth Issue (February, 2006)

Fourty-fifth Issue (April, 2006)

Fourty-sixth Issue (June, 2006)

Fourty-seventh Issue (August, 2006)

Fourty-eighth Issue (Ocboter, 2006)