High- resolution Micrograph Images Sent Back from ¡°Shijian-8¡±Breeding Satellite
A micro-gravity platform for experiments of life science developed by the 7th Lab of the Shanghai Institute of Technical Physics, CAS, has been operating smoothly onboard the orbiter module of ¡°Shijian-8¡±, a recoverable China satellite for breeding seeds of plants. Two facilities have been carried on the platform, the Cell and the Plant Incubators, which are designed to study the impact of space environment on the embryonic development of transgenic stem cells and the growth of higher plants respectively. The satellite was launched at 3:00 p.m. on Sep. 9th from the Jiuquan Satellite Launch Center in northwestern China's Gansu Province. Telemetric data collected directly sent back eight hours later showed that the two experiment facilities were working well. At 6:00 a.m. on Sep. 10th, scientists received high- resolution micrograph images from the orbiter module.

This is China¡¯s first satellite designed for seed breeding in space .
EAST Fusion Reactor Put into Operation
On Sep . 28th, CAS scientists successfully conducted the initial test of the Experimental Advanced Superconducting Tokamak (EAST) fusion device, the world¡¯s first full superconducting non-circular section nuclear fusion experiment facility developed independently in China. In the test, the EAST device generated a heated plasma with plasma current up to 200 kilo amperes and a pulse duration of about3 seconds. Research endeavors are continuing to empower the device to eventually create plasma lasting 1,000 consecutive seconds at a high temperature of more than 100 million Celsius in the next 5 to 10 years, said Wan Yuanxi, General Manager of EAST. EAST is a key project of China¡¯s 9th Five-year Plan. The Institute of Plasma Physics of the Hefei Institutes of Physical Science, CAS, spent eight years and 200 million RMB yuan ( about 25 million U.S. dollars) on building of the experimental reactor. The success of the test symbolizes the establishment and the official launch of a new-generation superconducting T okamak experimental equipment in China.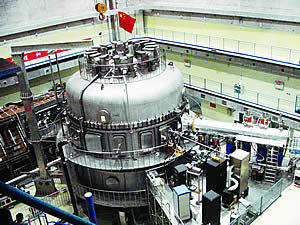 Progress Made in BEPCII ¨C China¡¯s Biggest Super-conducting Solenoid Magnet
On Sep . 19th, the magnetic field of super-conducting solenoid magnet at the Beijing Spectrometer III (BESIII), a large particle detector involved in the second phase construction of the Beijing Electron Positron Collider (BEPCII), reached 1.0TG, 20,000 times as that of the earth. In the experiment, the current intensity reached 3,368 A and the energy stored by the solenoid reached 10MJ. Tests showed that the designed requirements had been fully met, which indicates the great progress made in China¡¯s superconductivity technology development and also constitutes an important milestone for the BEPC u pgrade that is underway at the Institute of High Energy Physic (IHEP), CAS. The BESIII super-conducting solenoid magnet, the biggest of its kind in China, is independently developed by IHEP scientists thanks to three-year hard work since 2003.
Microscopic Crystals of Copper Sulphide Fabricated by USTC Scientists
An artistic-flavored breakthrough in the field of crystal research made by Prof. Yu Shuhong from the Hefei National Laboratory for Physical Sciences at Microscale (HFNL), the University of Science and Technology of China (USTC), and his colleagues has recently been published by the American Chemical Society Journal Chemistry of Materials and highlighted by the August 3rd ?issue of the UK magazine Nature in its Research Highlights column under the title of "Crystal Growth: Star Quality." By means of Rapid Communication, the research team reported their work on fabricating with chemical solution method the geometric ¡°stars¡± with high symmetry - microscopic crystals of copper sulphide that have a beautiful cuboctahedral form and geometric symmetry and contain 14 surfaces and 14 concave cavities. Before that, in American Chemical Engineering and News published on July 24, a detailed report and comment had already been given on the new outcome in an article entitled "Escher Goes Chemical" under the Science Concentrates column¡¯s top line.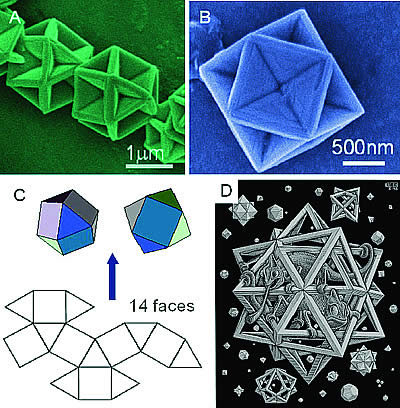 Centimeter-sized Micro Electric Generator System Developed
Dr. Xu Jinliang from the Guangzhou Institute of Energy Conversion (GIEC), CAS and his team, after three years efforts, has finally developed a micro electric generator system, which is only a few centimeters in diameter in the micro energy field . It is said that the system has a rosy application prospect. Meanwhile, in recent years, the Micro Energy System Laboratory led by Dr. Xu has also made rapid progress in the field of micro energy conversion. Their work has been published by journals and magazines such as J. of Micromechanics and Microengineering, Nanoscale and Microscale Thermophysical Engineering, Int. J. of Heat and Mass Transfer, Int. J. of Multiphase Flow, etc., attracting much attention from their international peers.
Dictionary of Pharmacy Compiled by Ji Ruyun, etc. Published
Thanks to 6 years¡¯ efforts of 245 domestic pharmic experts, Dictionary of Pharmacy has been published by the Shanghai Scientific & Technical Publishers(SSTP), a publisher under the Shanghai Century Publishing Group. As a dictionary solely compiled by the Chinese experts, it is a new contribution to the pharmic encyclopedia, following SSTP¡¯s publication of the second edition of the world-renowned Dictionary of Chinese Materia Medica in the first year of the 11th Five-year Plan. The Editorial Committee, headed by Ji Ruyun, a r esearch f ellow and Member of CAS, and Zhang Tianlu, Editor in Chief of Chinese Pharmaceutical Journal, organized 245 famous Chinese pharmacy experts to assist in the paper contribution. This over-3-million-words book totally records 10,000 plus entries that are classified into 12 categories. It not only clarifies the definitions and concepts of the basic, regular, key pharmacy terms and their derivatives as well as other relevant terms in relevant fields, but also includes traditional Chinese medicines, where readers can find answers or explanations to their questions.
Other Issues

Fifteenth Issue (Spring 2000)

Sixteenth Issue (Summer 2000)

Seventeenth Issue (Autumn 2000)

Eighteenth Issue (Winter 2000)

Nineteenth Issue (Spring 2001)

Twentith Issue (Summer 2001)

Twenty-first Issue (Autumn 2001)

Twenty-second Issue (Winter 2001)

Twenty-third Issue (Spring 2002)

Twenty-forth Issue (Summer 2002)

Twenty-fifth Issue (Autumn 2002)

Twenty-sixth Issue (Winter 2002)

Twenty-seventh Issue (Spring, 2003)

Twenty-eighth Issue (June, 2003)

Twenty-nineth Issue (August, 2003)

Thirtieth Issue (October, 2003)

Thirty-first Issue (December, 2003)

Thirty-second Issue (February, 2004)

Thirty-third Issue (April, 2004)

Thirty-fourth Issue (June, 2004)

Thirty-fifth Issue (August, 2004)

Thirty-sixth Issue (October, 2004)

Thirty-seventh Issue (December, 2004)

Thirty-eighth Issue (February, 2005)

Thirty-ninth Issue (April, 2005)

Fourtith Issue (June, 2005)

Fourty-first Issue (August, 2005)

Fourty-second Issue (October, 2005)

Fourty-third Issue (December, 2005)

Fourty-fourth Issue (February, 2006)

Fourty-fifth Issue (April, 2006)

Fourty-sixth Issue (June, 2006)

Fourty-seventh Issue (June, 2006)