Bai Chunli Inspects LAMOST Project
On Sep . 14th, Bai Chunli, Executive Vice President of CAS and Director General of the LAMOST Project Management Committee, paid a visit to the Nanjing Institute of Astronomical Optics & Technology (NIAOT), CAS, and inspected the latest progresses of the LAMOST project.
Shen Xuechu ?Receives Button Prize - Highest Prize for Electromagnetic Spectrum
On Sep . 19th, at the 31st International Conference on Infrared and Millimeter Waves and Terahertz Electronics (IRMMW-THz 2006) held in Shanghai, Shen Xuechu, member of CAS and researcher of the Shanghai Institute of Technical Physics, CAS, was honored with the Kenneth J. Button Prize for his outstanding contributions to the field of infrared condensed matter physics and, in particular, to the infrared semiconductor physics and spectroscopy.
Tan Tieniu Elected IAPR Fellow
The 18th International Conference on Pattern Recognition (ICPR) was held in Hong Kong recently. In the conference, the International Association for Pattern Recognition (IAPR) announced ten new elected IAPR Fellows after strict judgments. Prof. Tan Tieniu, Director General of the Institute of Automation, CAS, was elected as one of the ten . Prof. Tan Tieniu was elected for his contribution to the field of pattern recognition and computer vision.
Workshop on Peng Huanwu S & T Thought & Denomination Ceremony of " (48798 Planet) Penghuanwu " Held in Beijing
On Sep . 25th, "Panel on Peng Huanwu S & T Thought & Den omination Ceremony of (48798 Planet) Penghuanwu¡± was opened in the China Hall of Science and Technology. Ai Guoxiang, President of the National Astronomical Observatories, CAS, announced the decision of the Committee for Small Body Nomenclature (CSBN) of the International Astronomical Union (IAU) that the asteroid which bears international code 48798 found by the National Astronomical Observatories, CAS on Oct. 6th, 1997 was named as ( 48798 ) Penghuanwu. Peng Huanwu, Member of CAS, is the founder and vanguard of China's nuclear physics theory and neutron physics theory.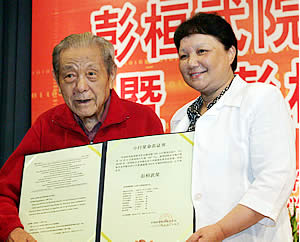 Wu Faquan Elected Vice President of IAEG
The 10th Conference of International Association for Engineering Geology and the Environment (IAEG2006) was held from Sep. 6th to 10th, 2006, in Nottingham, UK, during which Wu Faquan, Research Fellow of the Institute of Geology and Geophysics, CAS, was elected as Vice President of the International Association for Engineering Geology and the Environment (IAEG).
Number of GUCAS Graduates to Exceed 10,000 Next Year
On Sep . 26th, the Graduate University of CAS£¨GUCAS£©revealed that there will be approximately 11,700 graduates from GUCAS next year, both in and outside Beijing, majoring in more than 130 subjects, such as biology, chemistry, physics, electronic science and technology, computer science and technology, management science and engineering, etc.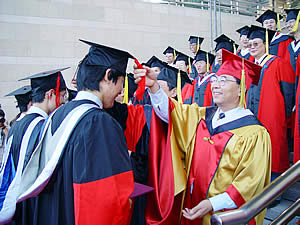 Breakthrough Made in Aviation Low- altitude Windshear Test
Recently, the Anhui Institute of Optics and Fine Mechanics (AIOFM), CAS, made a successful horizontal winds observation experiment using the ground-based Doppler Wind Radar at the Binhai International Airport, Tianjin. This test symbolizes that China has achieved a key breakthrough in solving the problem of aviation l ow- altitude w indshear test.
Sino-Russia Sci-tech Park Opens in Changchun
On Sep . 20th, a Sino-Russian Sci-tech Park formally opened in Changchun.Wang Min, Governor of Jilin Province, Bai Chunli, Executive Vice President of CAS, and Mr. Dologonski£¬ Governor of New Siberia Region, Russia and Mr. Formin, Academic Secretary of the Siberian Branch of the Russian Academy of Sciences (RAS) addressed the opening ceremony and cut the ribbon . Lu Yongxiang, President of CAS, wrote a letter of congratulation to the ceremony.