Lu Yongxiang Meets IHI President
On Sep. 28th, 2006, Lu Yongxiang, President of CAS, met with IHI (Ishikawajima-Harima Heavy Industries, Japan) Mototsugu Ito, President of IHI and his entourage in Beijing.
Early in December 2001, Lu Yongxiang signed a 5-year framework agreement for technology exchange and project cooperation on behalf of CAS with Mototsugu Ito, which has laid a solid foundation for the substantial cooperation between the two sides.
Bai Chunli Meets US Under Secretary of Commerce for Technology
On Sep . 25th morning, Bai Chunli, Executive Vice President of CAS, met with the visiting US delegation on nano-science and technology led by Mr. Robert Cresanti, Under Secretary of Commerce for Technology.

Bai Chunli stated that there is huge potential for cooperation on nano research and nano-technology industrialization between the two sides , which also met the intent of the US delegation .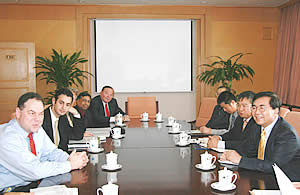 Jiang Mianheng Present at 31st IRMMW-THz2006

On Sep . 18th, the ¡°International Conference on Infrared and Millimeter Waves and Terahertz Electronics (IRMMW-THz2006)¡± co- sponsored by the Shanghai Institute of Technical Physics, CAS, the Southeast University and the Shanghai Association for Friendship with Foreign Countries was held in Shanghai. Jiang Mainheng, Vice-president of CAS was present at the conference. More than 500 renowned domestic and international experts in the field of infrared, terahertz and millimeter wave, such as Von Klitzing , German Nobel Prize Laureate and foreign member of CAS and Fred Lo, Director of US National Radio Astronomy Observatory, attended the Conference

.