Breakthrough Made in Dimethyl Ether/Methanol-to-Olefin (DMTO)
A significant breakthrough has been made in a research project on dimethyl ether/methanol-to-olefin (DMTO) technique co-developed by the Dalian Institute of Chemical Physics, CAS, the Shannxi Xinxing Coal Chemical Industrial Co., Ltd. and the Luoyang Petrochemical Engineering Corporation/Sinopec. They have realized an approximately 100% conversion rate of methyl alcohol with a higher than 90% selectivity ratio of light olefins (such as ethylene, propylene and butene) at an experimental facility for industrial production with a daily capacity up to 50 tons.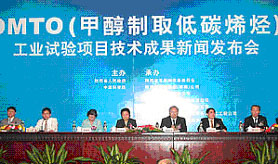 CAS Establishes Five New Institutes in Joint Hands with Local Governments
Lu Yongxiang, President of CAS, signed agreements with relevant provinces and cities to co-establish five new institutes, including the Yantai Institute of Coastal Research for Sustainable Development, the Qingdao Institute of Biomass Energy and Bioprocess Technology, the Suzhou Institute of Nano-tech and the Nano-bionics and Shenzhen Institute of Advanced Technology,etc.
It is known that CAS plans to establish some 10 new institutes during phase III of CAS Innovation Program. In addition to the established five institutes , the other five will be built in a period between 2008 to 2010 on a selective base in cooperation with relevant parties.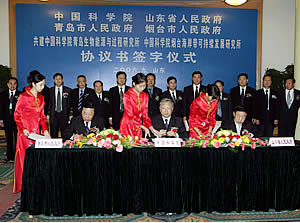 China¡¯s First Hydrogen-fuel-cell-driven Sightseeing Coaches Put into Trial Operation
Two hydrogen-fuel-cell-driven sightseeing coaches co-developed by the Dalian Institute of Chemical Physics, CAS, and the Dalian Sunrise Power Co., Ltd. were put into trial operation on Aug. 17th in Dalian World Expo Center. So far, the two coaches have run over 300 kilometers stably. All the technical data are up to the design requirements.