Li Jinghai Meets Deputy Chief Executive of ESRC
On the morning of Mar. 31, Li Jinghai, Vice-President of CAS, met with Glyn Davies, Deputy Chief Executive of ESRC.
During the talks, the two sides first introduced their basic conditions respectively, and then expressed wishes to carry out exchanges and cooperation in the fields, e.g. S & T policy and psychology, and further they discussed the approaches and procedure for such cooperation.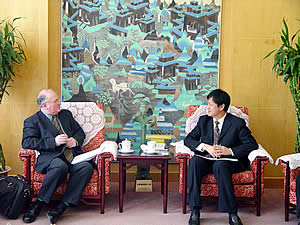 ESRC, as one of the eight UK research councils (an important funding institute established by the UK government to support scientists for their S&T research and development.) focuses on research funding in social science. Glyn Davies was invited by the Chinese Social Academy of Sciences.
Lu Yongxiang Meets New President of HGF
On Apr. 10, Lu Yongxiang, President of CAS met with Mlynek, the newly elected German HGF president and his entourage.
Lu Yongxiang welcomed the visiting delegation and expressed that CAS would like to establish closer links with HGF and to launch international cooperation in an innovative way. He suggested that the two sides implement collaborative research on basic large-scientific facilities on a long-term basis and in fields of earth sciences, environment and space technology. Mlynek assented that both sides will develop and implement fruitful collaborative projects in future.
Chen Zhu Meets French Delegation
On May 22, Chen Zhu, Vice-President of CAS, met with a delegation of the French Academy of Agriculture (FAA) and held a dinner in its honour. The delegation composed of Mr. Xavier Levevre, director of Human Nutrition and Food Safety Technology Bureau, FAA; Mr. Patrick etievant, head of Nutrition, Food Safety and Consumer Behavior Department, FAA ; Mr Bernard Charpentier, director of the International Cooperation Bureau and Ms. Isabelle Bordier, head for China Affairs of the same Bureau, FAA. Prof. Chen discussed with guests on cooperation initiatives and believed that the cooperation in the field of fungus research would be complementary to both sides .