Bai Chunli and Yuan Longping Elected Foreign Associates USNAS
On Apr. 25, the US National Academy of Sciences announced in its official website ( http://www.nas.edu ) a list of the newly elected 72 local members and 18 foreign associates. Bai Chunli, Executive Vice-President and member of CAS and Yuan Longping, member of CAE, were elected foreign associates to the US National Academy of Sciences. Lu Yongxiang, President of CAS and Executive Chairman of the CAS Presidium, sent a letter congratulating the election of the two scientists.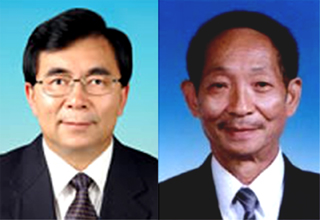 Lu Yongxiang Meets Koji Omi, Japan's Former Minister of State
On May 18, Lu Yongxiang, President of CAS met with Mr. Koji Omi, Japan's former Minister of State for Science and Technology Policy, Member of House of Representatives and Chairman of the Organizing Committee of the Science and Technology in Society forum (STS forum) in Beijing.
Mr. Koji Omi first expressed appreciation for the strong support that Prof. Lu has rendered to STS forum over the past years. He also said that given the importance and the development prospects of China, he expected to see more Chinese representatives on the third forum to be held in September this year in Kyoto, Japan.
While speaking highly on the STS forum, Prof. Lu expressed that he would recommend and encourage China's S&T community to proactively participate in the forum.
Second CAS Public Science Day Opened
On May 20, the opening ceremony for the Second CAS Public Science Day was held in Beijing.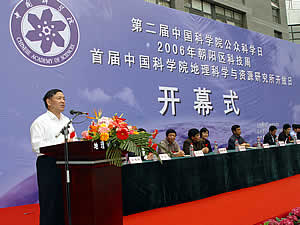 "CAS Public Science Day" is a large scaled community activity launched by CAS to popularize science, which is held in May each year during the National Science and Technology Week. Under the theme of Science and Technology for an Innovation-oriented Country, the 71 CAS research institutes throughout the country offered open days to the public. More than 60 members of CAS and some 1,000 frontline researchers participated these activities.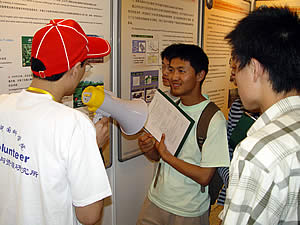 The first Open Day for the Institute of Geographic Science and Natural Resources Research (IGSNRR) of CAS rang up the curtain at the same time with a theme of ¡°Understanding the Relationship between People and the Earth and Building a Harmonious Home". The activities included: popular science lectures, brief introduction to IGSNRR, exhibition of scientific research results, experiencing scientific research, popular scientific knowledge show, screenage display of scientific survey, introduction to society and institutions, visiting to library and discussions with members of the Chinese Geographical Society, consultation on IGSNRR postgraduate enrolment, etc.