Substantial Progress in Research on CNTFETs and Relevant Controllable Fabrication
Prof. Liu Yunqi, Research Fellow and Prof. Zhu Daoben, member of CAS, both from the Key Laboratory of Organic Solids, Institute of Chemistry, CAS , as well as their graduates, cooperated with Prof. Han Buxing, Research Fellow and Dr. Liu Zhimin, Assistant Research Fellow both from the Key Laboratory of Institute of Colloids, Interface and Chemical Thermodynamics to make new progress in research on carbon nanotube field-effect transistors (CNTFETs) by using supercritical fluid technology. The relevant research results were published in Advanced Materials (2006, Vol.18, No.2, p.181-185), an international academic journal for materials sciences. Meanwhile, application for invention patent in China has been made.
They developed a new method for controllably synthesized arrays of branched CNTs. The branching architecture can be controlled by flow fluctuation while the compositions over each part are controlled by the component of gas flow. This so-called gas flow fluctuation method is easily controlled and of much significance for the architecture fabrication of multibranched CNT and the integration of nano-devices. Their work has been recently published in Nano Letters (2006, Vol. 6, No. 2, p.186-192), an international journal for nano-technology. Meanwhile, application for invention patent in China has been made.
New Achievements in Nanostructures Research
Recently, researchers from the Joint Laboratory for Nanobiological Effect and Security, under the National Center for NanoScience and Technology of China (NCNST) and the Institute of High Energy Physics (IHEPCAS), CAS found that the emission of electrons in a metal atom inside the carbon cage changed periodically and alternatively when the fullerene with a nanostructure of Gd@C82 was modified chemically in different ways on its surface. Their work was published on Apr. 26, 2006 on the online version of Advanced Materials , the world top journal for materials sciences.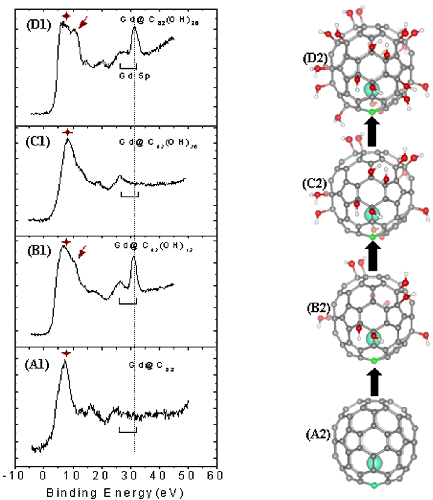 Other Issues

Fifteenth Issue (Spring 2000)

Sixteenth Issue (Summer 2000)

Seventeenth Issue (Autumn 2000)

Eighteenth Issue (Winter 2000)

Nineteenth Issue (Spring 2001)

Twentith Issue (Summer 2001)

Twenty-first Issue (Autumn 2001)

Twenty-second Issue (Winter 2001)

Twenty-third Issue (Spring 2002)

Twenty-forth Issue (Summer 2002)

Twenty-fifth Issue (Autumn 2002)

Twenty-sixth Issue (Winter 2002)

Twenty-seventh Issue (Spring, 2003)

Twenty-eighth Issue (June, 2003)

Twenty-nineth Issue (August, 2003)

Thirtieth Issue (October, 2003)

Thirty-first Issue (December, 2003)

Thirty-second Issue (February, 2004)

Thirty-third Issue (April, 2004)

Thirty-fourth Issue (June, 2004)

Thirty-fifth Issue (August, 2004)

Thirty-sixth Issue (October, 2004)

Thirty-seventh Issue (December, 2004)

Thirty-eighth Issue (February, 2005)

Thirty-ninth Issue (April, 2005)

Fourtith Issue (June, 2005)

Fourty-first Issue (August, 2005)

Fourty-second Issue (October, 2005)

Fourty-third Issue (December, 2005)

Fourty-fourth Issue (February, 2006)

Fourty-fifth Issue (April, 2006)