Cooperation between CAS and Local Governments
The signing ceremony for ˇ°Agreement on Comprehensive S&T Cooperation between Chongqing Municipal People's Government and CASˇ± was held on Apr. 20 in Chongqing.
On May 16, the symposium on establishing a research institute jointly by Shandong Province and CAS & the MOU signing ceremony was held in Jinan. Shi Erwei, Vice-President of CAS, expressed thanks to Shandong Province for its consistent support and help to CAS. He also pointed out that the new research institute shall be established according to the requirements of the regional economic development, and that the innovation on system and mechanism must be carried out so as to make contributions to the building of the regional innovation system.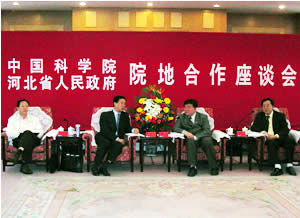 On May 21, the symposium on cooperation between CAS and Hebei Provincial People's Government was held in Beijing. Chen Zhu, Vice-President of CAS, said that the construction of a new socialist rural area is the central task currently taking place in China. To realize the goal of agricultural innovation and substantially solve the problems concerning agriculture, countryside and farmers for the benefit of the people, especially the farmers, we must rely on the close cooperation between national research institutes and local innovation systems.