Thoughts on Improving the Home-grown Innovation Capability of China
On March 16, Bai Chunli, member and Executive Vice-President of CAS and President of the Graduate School of CAS, delivered a speech entitled at the Public Lecture held by the CAS Young Scientists Lecturers Group, pointing out that the three major conflicts ( ¡°Being an ¡®Economic Power', China does not have a strong international competitiveness; its rapid growth of economy is disharmonious with the quality of growth; sharp conflicts arise between resource/environmental constraints and the rapid economic growth.¡± ), China is now facing in the course of development.
He emphasized that home-grown innovation is the core of national competitiveness. China has entered a historical stage when it must rely more on the continuous strengthening of home-grown innovation capability and laborers of high caliber to drive forward its economic development.
China's overall R&D level of science and technology is 5 years lag behind than that of the developed countries. In conjunction with the findings of a S&T innovation ability evaluation conducted globally in 2003, China ranks 28 among 49 major counties in terms of S&T innovation capability, which is at lower-middle level.
He observed, with 32 million S&T talents, among which 1.05 million are of R & D capability, China ranks first and second worldwide in terms of total S&T human resources and total R & D personnel respectively. This brings the overwhelming odds in our favor for home-grown innovation. Equipped with a well structured disciplines, which is not yet established in most countries, China has possessed certain home-grown innovation capability, and takes lead in terms of R & D capacities in some fields. This has laid a solid foundation for us to build China into an innovative country. We ¡°should develop three ¡®capabilities' as a whole, namely ¡®the capability of original innovation, the capability of integrated innovation, and the capability of introduction, digestion, and re-innovation'¡±.
| | |
| --- | --- |
| | |
According to Bai Chunli, ¡°home-grown¡± does not mean to close the door, reject anything that is foreign, and rely on oneself alone for innovation. He emphasized that the home-grown innovation as well as the process of introduction, digestion, absorption, and re-innovation should be taken as top priorities of the development strategy.
He brought forward six suggestions as regards how to improve the home-grown innovation capability: Firstly, the largest principal of technological innovation should be enterprises. Secondly, for a developing country as big as China, both basic and national research institutions are indispensable. Thirdly, we should foster talents as a strategic resource and strategic reserve. Fourthly, the largest gap between China and developed countries in national innovation system stays on the involvement of intermediary agencies and venture capitals. Fifthly, continuous increase of input remains as an unavoidable demand for the building of the national innovation system. Sixthly, we should overcome impetuousness and cultivate an environment and atmosphere in favor of home-grown innovation.
Coal Converted into Oil by Home-grown Technology
On Feb. 22, 2006, a foundation stone laying ceremony for the first primary Engineering Pilot Project for Coal Based Synthetic Oil¡ª¡ªthe Shanxi Lu ' an Coal Based Liquid (CTL) Pilot Factory was grandly launched in the Tunliu Coal Mine of Lu ' an Group, indicating the start of construction of the first coal to oil industrialized production line.
The key technology adopted by the pilot plant is fluidized-bed CTL technology with home-grown intellectual property right developed by the Shanxi Institute of Coal Chemistry, CAS, which is a successful application of CAS innovation program achievements in industry. The project aims ¡°to construct a pilot facility with an annual output of 160,000 tons in 2-3 years, and then achieve the final target to realize an annual output of 5.2M tons from 2008 to 2015¡±.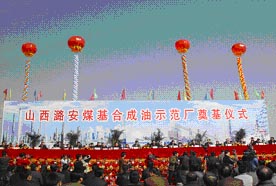 CAS National Science Library Holds Unveiling Ceremony
Recently, the Unveiling Ceremony of the CAS National Science Library was held in Beijing. Lu Yongxiang, President of CAS, in his epigraph to the Library reads, ¡°hold the world with great virtue, inherit scientific achievements; aspire to be first class and serve national innovation¡±.
CAS National Science Library was founded by integrating and incorporating the CAS Literature & Information Center, Information Center of Resource and Environmental Science, Chengdu Literature & Information Center, and Wuhan Literature & Information Center.
President Lu Yongxiang pointed out at the Ceremony that, the founding of CAS National Science Library is a major step in the reform and development launched at the commencement of the third phase of CAS Knowledge Innovation Program, which is of great significance. The National Science Library was built aiming at creating an internationally first-class and domestically best environment that serves the S&T literature and information and focusing on improvement of integrated service capacities. From the o verarching perspective, t he National Science Library will be open to the whole society and to realize the share of resources.