Study of S&T History of Modern and Contemporary China Published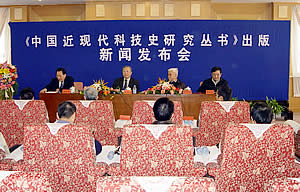 The Series on the Study of S&T History of Modern and Contemporary China , with Lu Yongxiang, member and President of CAS as the chief editor, and nearly 100 experts as its authors, was officially published.
This is the first time that the Chinese scientific and technological circles made a relative comprehensive, systematic and integrated study on history of the modern and contemporary China's science and technology development, said Lu Yongxiang at the Press Conference.
Lu Yongxiang pointed out that the past century or more has witnessed the unprecedented developments and prosperities of science and technology. Such progress in science and technology has profoundly influenced the historic cause of human society. The science and technology of modern and contemporary times in China has a history of almost 150 years. To systematically sum up and study its experiences and lessons is not only an urgent academic subject, but also an substantial task required by the current situation, hence it carries with it substantial academic values and realistic significance. The spirit of exploration, innovation, and devotion derived from love to our motherland that our science and technology workers have shown in all historical periods is a precious wealth which will encourage their successors to make unremitting efforts to emulate the globally leading sciences and technologies. Therefore, it is incumbent on us to record and publicize the efforts and struggles, success and merits of China's science and technology workers in this unusual period of time.
This whole series include 27 monographs and 9 research documents and reference books. Of the 21 that have already been published, there are works on the development of science and technology in modern China, such as The Westernization of Mathematics in China , A Brief History of Algebra in Modern China , History of Western Botanical and Zoological Studies in China, Geology and the Society of the Republic of China (1912-1949) , Fate of Science Societies in Modern China , A Social History of Diseases in Modern China , and Research Institutions in the Colony under the Rule of Japanese and Puppet Armies ; and works on the S&T development in contemporary China, such as Nuclear Bombs, Missiles & Satellites Project and Great Science , Transfer of Soviet's Technologies to China , Sketch on the Development of Chinese Spaceflight Technology , Establishment of Macromolecule Science in Contemporary China , Synthesizing a Protein , Study on the Development of Chinese Computer Industry , Selections of Chinese S&T Policies , etc.
Other Issues

Fifteenth Issue (Spring 2000)

Sixteenth Issue (Summer 2000)

Seventeenth Issue (Autumn 2000)

Eighteenth Issue (Winter 2000)

Nineteenth Issue (Spring 2001)

Twentith Issue (Summer 2001)

Twenty-first Issue (Autumn 2001)

Twenty-second Issue (Winter 2001)

Twenty-third Issue (Spring 2002)

Twenty-forth Issue (Summer 2002)

Twenty-fifth Issue (Autumn 2002)

Twenty-sixth Issue (Winter 2002)

Twenty-seventh Issue (Spring, 2003)

Twenty-eighth Issue (June, 2003)

Twenty-nineth Issue (August, 2003)

Thirtieth Issue (October, 2003)

Thirty-first Issue (December, 2003)

Thirty-second Issue (February, 2004)

Thirty-third Issue (April, 2004)

Thirty-fourth Issue (June, 2004)

Thirty-fifth Issue (August, 2004)

Thirty-sixth Issue (October, 2004)

Thirty-seventh Issue (December, 2004)

Thirty-eighth Issue (February, 2005)

Thirty-ninth Issue (April, 2005)

Fourtith Issue (June, 2005)

Fourty-first Issue (August, 2005)

Fourty-second Issue (October, 2005)

Fourty-third Issue (December, 2005)

Fourty-fourth Issue (February, 2006)