Science Awarding Ceremonies Held
CAS and CAE held the awarding ceremonies for Tan Kah Kee Science Awards and Guanghua E&TS Award on June 6.
Lu Yongxiang, President of CAS announced the names of winners and the corresponding award categories of the 2006 Tan Kah Kee Science Awards as follows:
Prof. Fan Haifu, Research Fellow of the Institute of Physics, CAS won the Award for Mathematics and Physics for his efforts in solving crystal structures from their diffraction effects. His study on the origin, appearance and resolving methods of the phase ambiguity led to the outstanding achievements.
Prof. Rao Zihe, Director General of the Institute of Biophysics, CAS, won the Award for Life Sciences. His studies on crystal structure of mitochondrial respiratory membrane protein complex II provides a bona fide model for study of the mitochondrial respiratory system and human mitochondrial diseases related to mutations in this complex.
Prof. Tu Chuanyi, a space physicist from the School of Earth and Space Sciences, Peking University, was granted the Award for Earth Sciences for having made great contributions on the study of the solar wind turbulence and the heating of the solar wind.
Prof. Wang Xiaoyun, a cryptographer from the School of Mathematics and System Sciences, Shandong University, won the Science Award for Information Technology. Her research on hash functions has scored world-shocking achievements by breaking two widely-used hash functions MD5 and SHA-1 successively.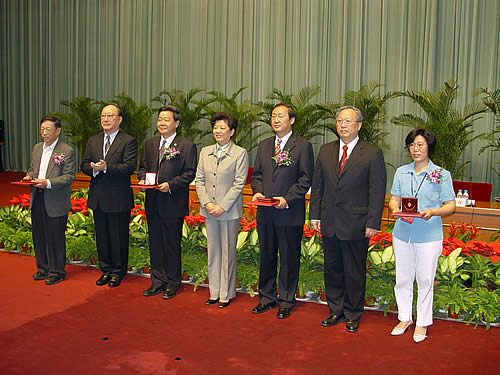 Wu Wenjun Receives Shaw Prize
C . N. Yang, Chair of the awarding committee for the Shaw Prize announced the winners of the Shaw Prize for 2006 in Hong Kong on June 21. Prof. Wu Wenjun, Member of CAS from the Academy of Mathematics and System Sciences, CAS, was honored with the 2006 Shaw Prize in Mathematical Sciences for his contributions to the new interdisciplinary field of mathematics and mechanization. The Fields Medal winner D.B. Mumford, Professor of the Brown University of U.S.A., also shared the Mathematical Sciences Award.-20