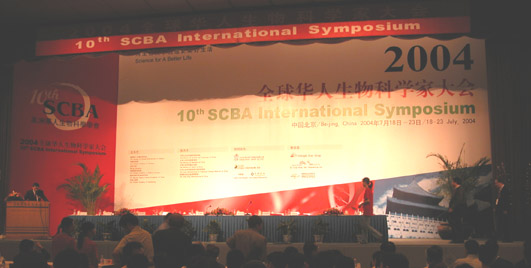 2004 Global Chinese Biological Scientists Conference Held in Beijing
On July 19, the "2004 global Chinese biological scientists conference" was opened in the Beijing International Convention Center. The conference was jointly sponsored by the American Chinese Biological Scientists Association (SCBA), CAS, etc., with the theme of "Science _ for a better life".

Nearly 2,000 scholars and specialists attended the conference, who were engaged in leading research work of biology, medicine, bio-technological sector including five Nobel prize winners. The topics of discussion included the development of biotechnology and science to which people show special concern, as well as the contagious disease such as the Severe Acute Respiratory Syndrome (SARS), liver disease, AIDS (Acquired Immune Deficiency Syndrome), cancer etc. and the problems of ocean and environment.

In his speech made at the opening ceremony, Yongxiang Lu, president of CAS highly evaluated the work done by Chinese scientists in the area of life science. The conference co-chairman---professor Jinghong Chen of the Southern California University Medical College and president Xu Zhihong of Peking University made welcoming speeches respectively.
Chinese Fossil Discovery Pushes Back the Bilaterian Animals 40-55 Million Years Before Cambrian Explosion
Over 99% modern animals are composed of members of the evolutionary lineage bilaterians. The bilaterians had been highly diverse and elaborated in Early Cambrian time, implying that they have a long and complex Precambrian evolutionary history. The early evolutionary history of bilaterian animals however, has remained a great puzzle.
A research team led by Junyuan Chen ( from Nanjing Inst. of Geology & Palaeontology, CAS ), and Eric Davidson ( developmental biologist from Caltech ) have particularly concerned with this problem. Although the fossil embryos suggest a possible presence of bilaterians in Wengan fauna by evidence that none of adult form of bilaterians had been found until last November when the first specimen was recognized from thin sections of the Doushantuo Formation (40-55 million years before Cambrian) at Weng'an, Guizhou. The specimen assigned as holotype of the new species later is exceptionally well preserved, displaying clear bilaterian features. Seen in section, it contains paired coeloms; paired external pits that could be sense organs; a clear, bilateral A/P organization with ventrally directed anterior mouth and pharynx; and has an obvious triploblastic structure.

The animal lived in green house event immediately after the snowball earth. Chen and his collaborators named it as Vernanimalcula, which implies small spring animal following the winter of snowball earth, with its specific name honored to the fossil locality, Guizhou. This important discovery was issued by "Science" magazine separately in June 3 through Internet and July 3 by a research article.