Dr. Tista Prasai Joshi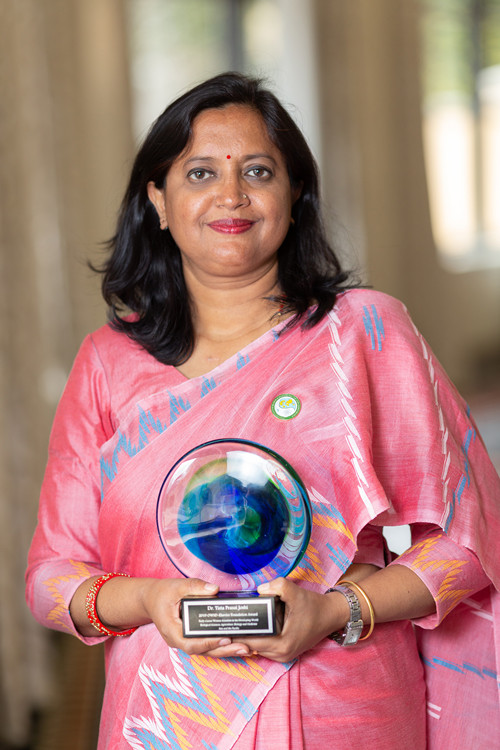 Receiving the OWSD-Elsevier Foundation Award 2019, Asia Pacific region in environmental microbiology
In 2010, I got an opportunity to attend the Water and Sanitation Workshop for Developing Countries held by the Research Center for Eco-Environmental Sciences (RCEES) of the Chinese Academy of Sciences (CAS), Beijing, China. This workshop was an opening door to my dreams of pursuing further academic study on water quality and treatment technology and gave me the chance to meet Professor Qu Jiuhui, Academician of Chinese Academy of Engineering, and Professor Liu Ruiping, who eventually became my PhD supervisors at RCEES when I enrolled at the University of the Chinese Academy of Sciences (UCAS) in March 2013.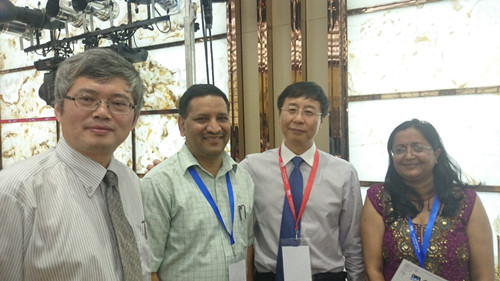 With Academician Professor Qu Jiuhui (2nd from right) and Professor Min Yang (first from left)
To be a part of and to help contribute to research projects in the water purification group at RCEES, CAS, led by Academician Professor Qu Jiuhui, was a high honor. My time shared with the professors and students influenced me in many good ways and helped me grow as a researcher and scientist. I still look back fondly on many in-depth discussions about the research, cultural exchanges and practical learning experience gained through trips to a ground water treatment plant in Tongliao City of Inner Mongolia and a tour of arsenic removal technology demonstration sites in Beijing. The overall research environment, lab quality for experiments and innovative environmental research at the forefront of water purification were very impressive. As a doctoral student, I also got the opportunity to hear from, meet and share my experience with many international famous water scientists and young researchers at the International Water Association, IWA-Aspire conference in Beijing which was hosted by RCEES, CAS in 2015.
With Professor Liu Ruiping (L)
The work conducted during my PhD studies at RCEES has potential engineering treatment application from highly-efficient and cost-effective technology in small communities to large-scale purification of arsenic from water. Novel metal oxide adsorbents were applied to remove aromatic organoarsenic and inorganic arsenic compounds efficiently from water. The results of this work have appeared in many leading journals including Water Research and Chemical Engineering Journal.
Based on my performance and publications, I was awarded the Excellent International Student Award from UCAS in 2017. After returning to Nepal following my graduation, my husband Dr. Dev Raj Joshi (his PhD. study was supervised by Professor Min Yang at RCEES) and I were both awarded the Class-I Educational Medal from the President of Nepal. Being fascinated by scientific research and the social aspects associated with scientific communication, I continued my research and other activities in NAST. I am also mentoring postgraduate students at universities in Nepal. In 2018, two drinking water purification systems donated by RCEES were installed at Tribhuvan University to provide high quality drinking water in Nepal.
Recently on Feb 16, 2019, I was honored with the prestigious OWSD–Elsevier Foundation Award from the Asia and Pacific region in the field of Biological Sciences. I believe I was awarded as an early career woman research scientist from developing countries due to maintaining a good research track with demonstrable impact on the research environment both at a regional and international level. Additionally, service to society, advocacy for environment and significant contribution to academia were also strongly correlated with this award.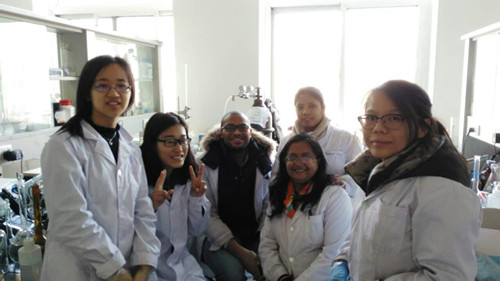 In RCEES Lab
Recognition of my work, environmental outreach efforts and continued mentoring of future scientists by the OWSD Elsevier Foundation Award is very nice, but more importantly it recharges my passion to continue doing what I am doing and still strive to be better. I would like to acknowledge my wonderful advisors, Academician Professor Qu Jiuhui and Professor Liu Ruiping who identified my research potential and helped guide me to become an even better researcher. Secondly, I would like to thank the Research Centre for Eco-Environmental Sciences (RCEES) of the Chinese Academy of Sciences (CAS) for the great impact they have had on my current achievements and international recognition. I have grown more confident, accountable, and motivated to continue my research activities to achieve my goals now and into the future. I hope my story will inspire many younger ladies in this region to work hard to achieve success in their scientific career. To extend my gratitude, I look forward to the successful development of impactful water research facilities in Nepal, especially at the Nepal Academy of Science and Technology with establishing research collaborations with RCEES and CAS at various levels.
Source: CAS