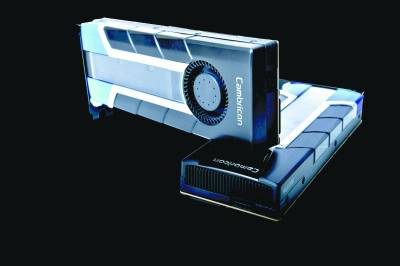 MLU100 smart processing card [Image from Cambricon]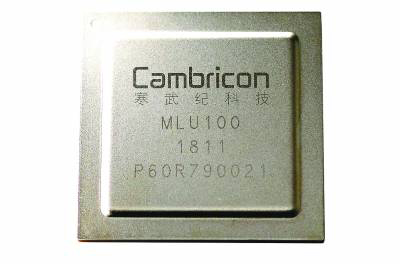 Cloud AI chip MLU100 [Image from Cambricon]
Cambricon, a company incubated by the Chinese Academy of Sciences (CAS), released the new cloud AI chip Cambricon MLU100 and the Cambricon 1M processor for edge computing in Shanghai on May 3. This new release broadens the variety and performance of Chinese AI chips.
1. Powerful new products
Chen Tianshi, founder and CEO of Cambricon, said that MLU100 adopts the latest Cambricon MLUv01 architecture and TSMC 16-nanometer advanced technology. The equivalent theoretical peak speed in balanced mode (1GHz frequency) is up to 128 trillion fixed-point operations per second; the equivalent theoretical peak speed in high-performance mode (1.3GHz frequency) is as much as 166.4 trillion fixed-point operations per second.
Its energy consumption is very low. The typical board power consumption is only 80 watts, and the peak power consumption does not exceed 110 watts. The chip also has excellent versatility as it can support all kinds of deep learning and classic machine learning algorithms. It can meet the cloud intelligent processing needs in complex scenes such as visual, speech, natural language processing, and classic data mining.
Cambricon 1M is the company's third-generation IP product. The performance ratio of 8-bit computing under TSMC 7-nanometer technology can reach 5 Tops/watt (5 trillion operations per watt). It can provide three kinds of processor cores (2 Tops/4 Tops/8 Tops), which can meet the needs of different levels of intelligent processing in different application scenarios. It can also further improve its performance through multi-core interconnection.
The Cambricon series smart chips are based on the relevant basic research design of the CAS and have been successfully designed and industrialized. Cambricon released the terminal series chips in 2016 and 2017. The newly released cloud chip can complete all kinds of complicated cloud intelligence tasks independently, and it can be perfectly adapted to the Cambricon series terminal chips, allowing the terminal and the cloud to perform complex intelligent processing tasks based on the unified intelligent ecology.
2. Special tool for AI
When it comes to smart chips, there is often a question: can it replace traditional CPUs? Chen Yunji, a researcher at the Institute of Computing of CAS and an inventor of the Cambricon chips, said: "We know that an excellent gaming experience requires both the CPU and the graphics card. The relationship between smart chips and CPU is similar to this."
The CPU is like a universal tool that can do any job and its role in computing and control cannot be replaced. The smart chip is like an efficient and special tool and can provide a flexible and efficient computing platform for visual, speech, natural language processing and various classic machine learning tasks. It can also greatly improve computational efficiency and reduce energy consumption.
Compared with traditional chips, smart chips often have different design concepts and calculation modes. The basic operation of the CPU is an arithmetic operation and logic operation and therefore it takes hundreds or even thousands of instructions to complete processing equivalent to that of a human neuron. The Cambricon series chips use the computerized word "DianNaoYu" (computer language) to simulate brain neurons and synapses. As a result, one set of instructions can complete the processing equivalent to that of a group of neurons.
Although smart chips cannot replace CPUs, people will obviously have a smoother and energy-saving experience when they use devices that embed smart chips, such as smart phones, drones, smart cameras, and smart driving. For example, Cambricon 1A, the first generation terminal intelligent processor IP product, is used on Huawei Mate10 and other mobile phones.
3. Forming an industrial ecosystem based on Cambricon smart chips
This is not just a new product release. Lenovo, Sugon, and iFlytek all launched application programs based on this smart chip - this shows that the industry ecology based on the Cambricon series chips is taking shape.
The course of development of the computing industry over the past few decades shows that if there is no healthy upstream and downstream ecosystem, excellent hardware products will only be dead. At the beginning of development, the Cambricon series chips are actively exploring the formation of a good industrial pattern.
Lenovo released the ThinkSystem SR650, a cloud-based smart server based on the Cambricon MLU100 intelligent processing card. This sets a world record of 37 server benchmarks. ThinkSystem SR650 will fully support Lenovo's business needs in machine learning, virtualization, and databases.
Sugon released a server product based on the Cambricon MLU100 intelligent processing card. It also revealed that it will develop the artificial intelligence management platform Sothis AI, which can seamlessly integrate with the Cambricon family of chips and its development environment.
Hu Yu, CEO of iFlytek, said that thanks to Cambricon's smart processor, the energy efficiency of iFlytek's voice intelligence products is more than five times better than that of similar products. At the same time, the local voice recognition accuracy rate is improved by 9.8 percent on mobile phones installed with the Cambricon intelligent processor compared to that of the conventional processor. This has significantly improved user experience.
Chen Tianshi said: "Cambricon aims to enable the world to use smart processors. We will uphold the spirit of openness and collaboration in the academic community, and share the latest technologies of Cambricon with the world through processor IP licensing so that our global customers can quickly design and produce chip products with artificial intelligence processing capabilities."
Source: CAS